So How Did Dan Webster Get 12 Votes to Replace Boehner?
The Florida Republican surprisingly won the most insurgent votes in the race to become U.S. House speaker.
By and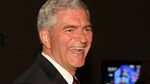 The Republican who received the second-most votes on Tuesday to be U.S. House speaker isn't well known inside the Washington beltway, but back home in Florida he's one of the godfathers of the state's modern-era Republican Party.