Samsung and Yves Béhar Have Made an 82-Inch TV That's Not Hideous
Cubbed the S9W, his creation sits atop a plinth-like cube to emphasize its three-dimensionality
Belinda Lanks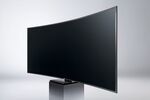 To get a full cinematic experience while watching television, your screen needs to be big—really big. But what you gain in size you sacrifice in aesthetics. The monitor becomes a hulking, black monolith that would detract from a room full of Old Masters. That tradeoff isn't going away soon, but design superstar Yves Béhar has done his plum best to mitigate the inherent ugliness of a massive TV by developing an ultra-thin, sculptural masterpiece for Samsung's new SUHD line.

Béhar's curved 82-inch TV, dubbed the S9W, sits atop a plinth-like cube to emphasize its three-dimensionality. "We have admired paintings displayed on walls for centuries, but an image on a curve instantly becomes a sculpture," said Béhar in a statement. Béhar is the reigning king of consumer design at the moment: The Jawbone Up, Soda Stream carbonators, and Nivea's packaging may be the best-known examples of his style. "We truly looked at this television not as a consumer electronics product but as a piece of fine craftsmanship."

Samsung achieved the screen's lithe profile by jamming all the guts into the stainless-steel base. Béhar describes the effect in poetic terms: "The curve then becomes what it is, a beautiful arc, like a bow on tension floating in midair." For all the talk of craftsmanship and art, the TV is not without some space-age touches. When powered on, the top of the cube lifts to reveal a sound system and display lighting.

Béhar claims that bending the surface creates a more immersive experience and that its size makes it a statement piece worthy of display without overwhelming a room. The designer certainly makes an admirable effort to turn a traditional eyesore into, well, less of an eyesore, if not a thing of beauty. It's still unmistakably a really big, black TV screen, even if it does levitate.
Before it's here, it's on the Bloomberg Terminal.
LEARN MORE