Republicans Who Got Boehner Donations in 2014 Turn Against Him for Speaker
By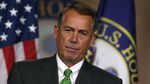 So, it's true, money really can't buy you love—or loyalty. John Boehner's re-election as House speaker on Tuesday was opposed by some Republicans whose campaigns he helped finance in the most recent election.
Nine of the 24 Republicans who voted for someone other than Boehner received donations from him during the 2014 campaign through his personal campaign committee, Friends of John Boehner, or his leadership PAC, Freedom Project. Boehner won a third term as speaker with 216 votes, a majority of the 408 votes cast for named candidates. The bloc of two dozen defectors is more than twice as large as the anti-Boehner group in the 2013 speaker's election. Today's vote showed that, despite winning their biggest House majority since the 1928 election, Boehner's rebellious wing also has grown larger and signaled with this first vote that the speaker's job won't be any easier. 
The following is a list of House members who voted against Boehner and also received campaign donations for the 2014 election from one or both of the speaker's political committees. Like other legislative leaders, Boehner focuses his campaign donations on members and candidates in tough races and on incoming freshmen. Most of the anti-Boehner Republicans have served more than one term and represent politically safe districts, so they really didn't need his campaign cash.
For instance, Paul Gosar of Arizona, who voted for Representative Daniel Webster of Florida as speaker, received $10,000 from Boehner's political operation in 2012, when Arizona's districts were dramatically revised; he received nothing in 2014, when he was easily re-elected. According to the Center for Responsive Politics, a Washington-based research group that tracks campaign giving, 19 of the Republicans who didn't vote for Boehner today have received money from his PAC since 2010.
The figures for the 2014 election below come from CRP. The person these anti-Boehner renegades backed to become the next speaker is noted parenthetically:
Curt Clawson of Florida (Senator Rand Paul of Kentucky): $14,000. Clawson won a special election last June and was re-elected last November in a strongly Republican district. He ran as a political outsider.
Rod Blum of Iowa (Webster): $7,000. Blum, a freshman, won the eastern Iowa district that Democrat Bruce Braley gave up to wage a Senate campaign that was unsuccessful. Democrats will target his seat in 2016.
Dave Brat of Virginia (Representative Jeff Duncan of South Carolina): $10,000. Brat stunned the political world when he unseated Eric Cantor in a Republican primary in June, when Cantor was the incumbent majority leader and No. 2 to Boehner. Brat told the Hill newspaper in November that he planned to vote for Boehner.
Scott DesJarlais of Tennessee (Representative Jim Jordan of Ohio): $5,000. Weakened by personal scandal, DesJarlais nonetheless eked out a win in his 2014 primary, the key election in the Republican-friendly district.
Chris Gibson of New York (Majority Leader Kevin McCarthy of California): $5,000. Gibson, one of the least conservative House Republicans, said before the vote that he would honor a term-limits pledge and not seek re-election in 2016.
Mark Meadows of North Carolina (Webster): $5,000. Meadows is in his second term representing the western section of the state.
Gary Palmer of Alabama (Senator Jeff Sessions of Alabama): $5,000. Palmer, a freshman from an overwhelmingly Republican district in and around Birmingham, said during a candidate debate in June that Boehner had "lost his legitimacy to lead." Boehner's PAC sent him a check in September anyway.
Marlin Stutzman of Indiana (Webster): $5,000. Stutzman, who represents a safe Republican district in and around Fort Wayne, lost out to Steve Scalise of Louisiana in a race for majority whip last June.
Webster, a well-respected member whose 12 votes for speaker included his own, received $5,000 from Boehner's PAC in May 2013, about six months after he was re-elected in 2012. Webster won easily in 2014.
Brian Babin, a Texas freshman who voted "present" rather than back a candidate, received $5,000 from Freedom Project last September. Babin represents a staunchly Republican district that was previously held by Steve Stockman, who opposed Boehner for speaker in 2013.
Also of note: Boehner didn't make any political contributions during the 2014 campaign to Representative Justin Amash of Michigan, who voted against Boehner on Tuesday and also in 2013. Two of Boehner's former deputy chiefs of staff donated to Amash's opponent in the 2014 Republican primary. Even so, Amash has said he and Boehner have a very good working relationship.