Pitchers Johnson, Martinez Join Smoltz in Hall of Fame
Mason Levinson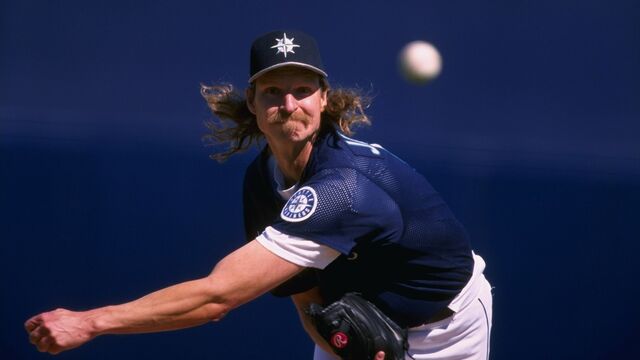 Randy Johnson and Pedro Martinez dominated at opposite ends of the pitching height range. John Smoltz made a historic transition on the mound to join them as Major League Baseball's newest Hall of Famers.
Johnson, Martinez and Smoltz were elected yesterday to the museum in Cooperstown, New York, in their first year on the ballot. Longtime Houston Astros second baseman Craig Biggio also got in by receiving enough votes in his third year on the ballot.
Standing six-foot-10 inches (2.08 meters) tall, Johnson intimidated batters with a fastball that reached 100 miles an hour (160 kilometers an hour) and a diving slider, striking out an MLB-record 10.6 batters per nine innings. Martinez, at 5-foot-11 and 170 pounds, is third in MLB history with 10 strikeouts per nine innings.
Smoltz called his fellow electees "freakish talents" for what they did with their frames.
"I've never seen at each person's height anybody come close to what they were able to do," Smoltz said on a conference call with reporters after learning of his election.
Smoltz himself was dominant in a unique way, becoming the only major leaguer to win 200 games as a starter and earn 100 saves as a reliever.
"It, to me, was one of the greatest things that I've ever accomplished of all the things that I've felt good about," Smoltz said of his successful transition. "It's probably the hardest thing that I've ever done."
It's the fourth time a class of at least four players was elected by the Baseball Writers Association of America.
With 75 percent of the 549 votes cast needed for election, Johnson was named on 97.3 percent of ballots, falling just short of the record 98.84 percent of votes that pitcher Tom Seaver received in 1992. Martinez was named on 91.1 percent, followed by Smoltz (82.9 percent) and Biggio (82.7), the BBWAA said on its website.
Second Dominican
Martinez said he expected his selection -- which made him the second player from the Dominican Republic elected to the shrine, joining pitcher Juan Marichal, a 1983 inductee.
"I was really positive, just like I was going to pitch a big game," Martinez said in an interview with MLB Network. "I always thought I was going to win."
Mike Piazza, who won 10 Silver Slugger Awards as perhaps the game's best hitting catcher, was named on 69.9 percent of ballots, the closest without getting elected.
Voters continued to snub many of the game's most statistically accomplished players due to their ties to performance-enhancing drug use. Record seven-time Cy Young Award-winning pitcher Roger Clemens received 37.5 percent of the vote; career home run leader Barry Bonds 36.8 percent, and slugger Mark McGwire, in his ninth of 10 years on the ballot, drew 10 percent.
Voting Shortfalls
Jeff Bagwell earned 55.7 percent of the vote, Tim Raines 55 percent and Curt Schilling 39.2 percent.
In 1936, the baseball writers group inducted Ty Cobb, Walter Johnson, Christy Mathewson, Babe Ruth and Honus Wagner, the only five-player class. Four players were elected in 1947 and 1955.
Johnson, a left-hander who won five Cy Young Awards as the best pitcher in his league, including four straight with the Arizona Diamondbacks from 1999-2002, pitched 22 seasons for six major league teams, winning at least 20 games three times.
The 51-year-old had a 303-166 career record while posting a 3.29 earned run average. His win total ranks 22nd in MLB history and his 4,875 strikeouts are second only to Nolan Ryan.
Arms, Legs
Johnson said on a conference call with reporters that he was "all arms and legs" when he entered baseball, which hadn't seen a player so tall before. Without similar-sized pitchers to model his mechanics after, it created a challenge for Johnson to learn how to be successful and he struggled at first, he said.
"Without a doubt, obviously, my height was to my advantage, but only when I was able to harness my ability," Johnson said. "When I did become consistent with my release point and mechanics, it then became a lot of fun."
Johnson, who spent nine seasons with the Seattle Mariners and played for five other teams including the Diamondbacks and the New York Yankees in 2005-06, declined to say which team hat he'd like on his player bust at the Hall of Fame.
Martinez, 43, a three-time Cy Young-winning right-hander, played 18 seasons for five teams, including seven with the Boston Red Sox. Martinez retired with a 219-100 record after five times leading his league in ERA. His career ERA is 2.93.
Martinez's Height
"I wanted to make everybody who was above my height feel really, really small," Martinez said in an interview on MLB Network. "With that demeanor, I took the mound and I came across that way."
Smoltz, dominant as both a starting and relief pitcher during his 21-season career with the Atlanta Braves, Red Sox and St. Louis Cardinals, won the 1996 National League Cy Young Award after going 24-8 with a 2.94 ERA for Atlanta. In 2002, the right-hander led baseball with 55 saves. Smoltz, 47, retired with a 3.33 ERA, a 213-155 record and 154 saves.
Smoltz's Braves teammates Greg Maddux and Tom Glavine, and manager Bobby Cox, were inducted into the Hall in 2014. Fellow teammate Chipper Jones, a probable Hall of Famer, becomes eligible in 2017. The group won 11 straight division titles from 1995-2005, including the 1995 World Series.
"It was storybook, and it'll probably never happen again," Smoltz, now an MLB Network analyst, said on the network. "The only thing all of us regret is that we didn't execute enough to win more championship rings."
Biggio Votes
Biggio, 49, fell 39 votes shy of induction in 2013 and was 0.2 percent shy of getting the required 75 percent of the vote to be inducted last year.
A seven-time All-Star who played his entire 20-year career for the Houston Astros, Biggio earned Silver Slugger honors as the top-hitting second baseman five times, while also winning four Gold Gloves for his fielding. He retired with 3,060 hits (ranking 21st), 668 doubles (fifth most), 291 homers and a .281 batting average.
With players becoming eligible for induction five years after retirement, the BBWAA in July reduced the number of years players can remain on the ballot to 10 from 15 to diminish the logjam of those who have remained on the ballot but were unelected because of doping ties. Players receiving at least 5 percent of the vote remain on the ballot until their eligibility expires.
The induction ceremony is July 26.
Before it's here, it's on the Bloomberg Terminal.
LEARN MORE