Police Arrest Two Men in Bronx Shooting of NYPD Officers
Patricia Hurtado, Christie Smythe and Phil Milford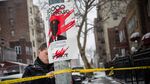 New York City Police said they arrested two men in the shooting last night of two officers following a gunfight and car chase tied to a Bronx store robbery.
The confrontation came more than two weeks after a pair of officers was shot dead in Brooklyn, allegedly by a man who claimed he would retaliate for police killings of unarmed black men in Staten Island and Ferguson, Missouri. Officer Wenjian Liu, 32, and Rafael Ramos, 40, were killed Dec. 20 as they sat in a marked patrol car outside a housing project.
Their deaths led to criticism of Mayor Bill de Blasio by the police labor union and silent protests by officers at the funerals of Ramos and Liu. Union officials claimed de Blasio helped create an atmosphere that led to the shootings by supporting the rights of demonstrators protesting police killings.
Those demonstrations snowballed in New York City after a Staten Island grand jury, like one in Missouri, declined to indict a white police officer for killing an unarmed black man.
Police today noted a significant drop in arrests since the two officers were killed, indicating a possible work slowdown. For the week ending Jan. 4, the department recorded 2,401 arrests, compared with 5,448 for the same period in 2014, and 347 criminal summonses compared with 4,077 last year.
Bronx Shooting
In last night's shooting, Officer Andrew Dossi, 30, was wounded in the arm and back, said Police Commissioner William Bratton. Officer Aliro Pellerano, 38, was shot in the left arm and chest.
Both are now listed as stable and could be released from the hospital tomorrow, Bratton said today at a press conference at police headquarters in Manhattan. Dossi underwent surgery at St. Barnabas Hospital.
Joshua Kemp and Jason Polanco are in custody, with Polanco suspected of firing on the officers after they stopped to question Kemp outside a nearby Chinese restaurant after a robbery, police said.
Polanco had an Instagram account in which he had espoused "anti-government, anti-police sentiment," according to Bratton and Robert Boyce, the NYPD's Chief of Detectives. Boyce said that helped identify Polanco as Kemp's associate.
Dossi and Pellerano were part of a group of five anti-crime police officers in the 46th Precinct in the Tremont section of the Bronx who were going off duty when a call came in about a robbery in progress at a delicatessen, Boyce said. The officers responded even though their tour was over and drove to the area to see if they could locate the robbers.
Surveillance Video
As they arrived, they saw two men on foot and parked their car, Boyce said. Surveillance video from the deli shows one of the two men was wearing a distinctive green parka with brown shoulders and at least one appeared to be wearing a mask, Boyce said.
The robbers stole an unspecified amount of cash at the deli and stuffed it into a duffel bag. The cash hasn't been recovered and the amount isn't known, Boyce said.
As the officers approached Kemp to question him near 184th Street and Tiebout Avenue, Polanco ducked into a Chinese restaurant, according to Boyce.
Surveillance footage from a video camera at the restaurant shows Polanco buying an iced tea there. He then turned and fired three rounds from a .44-caliber Magnum at the officers through a Plexiglas window, Boyce said. A bullet struck Kemp, passing through his right bicep, and then hitting one of the police officers, Boyce said.
Polanco fled on foot after the shooting and hijacked a white Camaro and later crashed it, according to Boyce. Kemp escaped separately and showed up at Columbia Presbyterian Hospital in Manhattan with a bullet wound to his back at about 11:10 pm yesterday, telling doctors and authorities a "bogus story" claiming to be shot in the 34th Precinct, Boyce said.
Entire Story
Pressed by detectives, "he gave up the entire story," Boyce said.
Police were able to identify Polanco from an image taken from the restaurant surveillance video. Boyce said of the 29 tips which came in, 10 identified Polanco by name.
Three other shots were fired during the incident by NYPD Officer Michael Pomerantz, Boyce said.
Polanco has three prior arrests for illegal weapons possessions, Boyce said. Kemp has at least 10 prior arrests for robberies, Boyce said. The NYPD is also investigating whether the two teamed up in prior armed robberies.
"I commend them for their courage," James O'Neill, the NYPD Chief of Department said of the officers. "Five anti-crime officers were going home and jumped into a car and ended up getting into a fierce fire-fight."
Before it's here, it's on the Bloomberg Terminal.
LEARN MORE