As Oil Drops Below $50, Can There Be Too Much of a Good Thing?
While the stock market's tense, U.S. consumers are happy
by and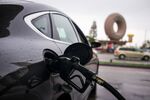 Oil drops almost $5 a barrel in two days, and the Dow Jones industrial average falls 461 points. Seems like proof that the price of crude is getting to be a problem—as in 1998, when a decline in oil prices forced a Russian default that rocked the global financial system.
Not quite. Cheaper oil is still creating more winners than losers. Far more people live in oil-importing countries than in oil-exporting ones. The U.S., for one, remains a net importer. The travails of its shale oil producers are small compared with the gains of American consumers and businesses that are paying less for gasoline, diesel, jet fuel, and petrochemicals. With fuel prices down, people are driving more miles and buying more cars and trucks.

Do the math: Close to 70 percent of the U.S. economy is made up of consumer spending. Only about 2 percent is capital spending by the energy sector—building pipelines, buying rigs, etc.—which might decline 20 percent this year, says Nariman Behravesh, chief economist for IHS. That's a drop in the bucket of gross domestic product.
Why, then, did stocks fall when West Texas Intermediate for February delivery dropped below $50, closing at $47.93 on Jan. 6? Mostly because of fears about global growth, which are weighing down both stocks and oil prices, says Gus Faucher, a senior macroeconomist at PNC Financial Services. He says the latest drop in oil is a symptom, not a cause, of economic weakness.
The other fly in the petroleum jelly is the risk of a financial crackup such as Russia's 1998 default. "You will always have financial risks associated with fast, unexpected changes," says Anders Aslund, a senior fellow at the Peterson Institute for International Economics.
The fear of a financial crisis is probably overblown. Even Venezuela, the oil producer most often said to be at risk of defaulting, is likely to keep paying its debt as long as prices don't "fall to the low $30s for an extended period of time," says Francisco Rodriguez, who follows Andean economies for Bank of America Merrill Lynch. If Venezuela defaults, he says, it will be because of politics, not necessity. At today's prices, Venezuela's annual export earnings are still more than four times what it owes in principal and interest in 2015. Rodriguez adds that President Nicolás Maduro knows if Venezuela defaults, creditors will try to seize refineries outside the country that are valued at $20 billion. Russia has even less reason to default, says George Abed, director for Africa and the Middle East at the Institute of International Finance: It sits on close to $400 billion in currency reserves.
If an oil-induced financial crisis were in the cards, you'd expect to see its impact on the stocks of banks, which would be vulnerable to a wave of defaults. It hasn't happened: Stock prices of the Standard & Poor's index of diversified banks—including the likes of JPMorgan Chase and Citigroup—are up more than the overall S&P 500 over the past half year.
Any further drops in the price of crude would be likely to produce smaller gains for the overall U.S. economy. "The negative impact on investment starts to ratchet up" if oil stays below $50 a barrel, says Douglas Handler, chief U.S. economist at IHS. In fact, the price drop might knock so many producers out of the market that there will be a steep price rebound, says Steven Kopits, an analyst at Princeton Energy Advisors. "The incremental benefits get weaker," he says. That's a long way from saying cheap oil is too much of a good thing.
Before it's here, it's on the Bloomberg Terminal.
LEARN MORE