Liverpool Said to Seek More From Sponsors as Gerrard Out
Jonathan Browning and Tariq Panja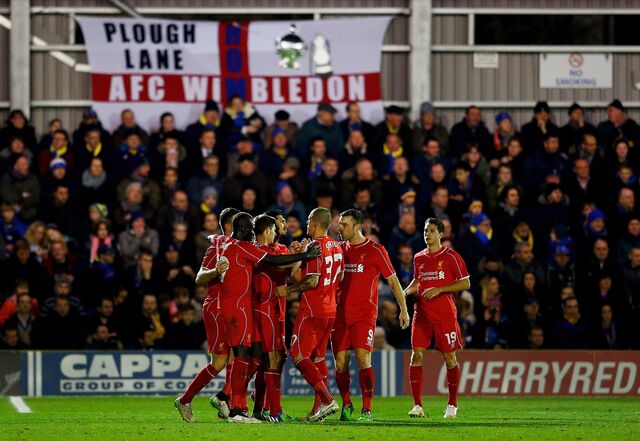 Liverpool is demanding an increased amount from potential shirt sponsors even as the English Premier League soccer team faces a future without its two most-marketable players.
The team has been seeking as much as 30 million pounds ($46 million) a year from its main shirt sponsor for the 2016 season, from the current 20 million pounds, according to a person familiar with the matter. Standard Chartered Plc is interested in remaining on the jerseys, while other companies, including Japan's Nomura Holdings Inc., have been approached, people with knowledge of the matter said, asking not to be identified because the discussions are confidential.
Eighteen league titles and five European Cups make Liverpool one of the sport's most successful teams. But it hasn't been English champion since 1990 and is 8th after 20 games this season. It was eliminated from the group stage of the Champions League after winning just one of six games. The low comes as 34-year-old captain Steven Gerrard ends a 26-year association with the team. Last season's Premier League leading striker Luis Suarez left for Barcelona in July.
"A leap from 20 to 30 million pounds is a little too much," said Tim Crow, chief executive officer of London-based sponsorship consultant Synergy, which has run sports campaigns for companies including Coca-Cola Co. and BMW. "I would be surprised if they achieve that."
Conversations
Standard Chartered is keen to renew its backing provided the price is right, according to a person familiar with its plans. Simon Kutner, a spokesman for the lender, declined to comment.
Liverpool has also held talks with Nomura and other Asian companies about the sponsorship, one person said, asking not to be identified because the discussions are confidential. The club plans to complete a deal in the next six months. A Nomura spokesman declined to comment.
"We are engaged in ongoing conversations with Standard Chartered regarding extending the partnership and continually delivering excellent commercial and community value," Liverpool said in an e-mailed statement. "As a matter of commercial confidentiality Liverpool FC does not comment on any discussions with current and potential partners."
'Create Hype'
Liverpool had been highlighting Gerrard's role at the club in its 2014 marketing materials, one person said. The former England captain is celebrated by Reds fans for his loyalty, and ability to score goals at crucial moments, like his two in yesterday's 2-1 win over Wimbledon in the F.A. Cup.
Last season, led by Suarez's 31 league goals, Liverpool came within two points of ending its 25-year title wait. Losing Suarez and Gerrard has a damaging effect off the field as well as on it, Crow said. Jerseys bearing the names of Gerrard and Suarez were two of the top three sellers last season, according to Premier League data.
"Marquee players are important: they shift shirts, they create hype when you go on tour, they create more content you can use off the back of your partnership," said Richard Brinkman, global of head of sport at researcher KantarSport. "That's certainly a concern for them that some of the younger players they've invested in have not come through perhaps as they would have liked."
Liverpool is aiming to close the gap with Manchester United Ltd., whose seven-year deal with General Motors Co. to put its Chevrolet brand on the United jerseys set a record for a sponsorship deal. GM agreed to pay $70 million in 2014, with the costs rising 2.1 percent each season. The sponsorship agreement will generate $559 million through 2021, United said.
Asian Following
Of the Premier League's 20 clubs, Liverpool has the third largest global following, according to Jon Stainer, a managing director at sports marketer Repucom's U.K. operation. The club is prominent in Thailand, India, Indonesia and China.
The team's appeal in Asia dates to its success in the 1970s and 1980s. The Reds won four of their European Cups and 10 championships in the period, and its matches were among the most prominent on television. Now, fans in Asia have access to almost all of the Premier League's 380 games and every Champions League fixture.
"This combination of engaged fans and heightened TV exposure for the league and its teams in Asia makes Liverpool an excellent sponsorship investment for companies from or looking to do business across the region," Stainer said.
Liverpool isn't the only major soccer team in the market for a main sponsor. Chelsea, which has won the Champions League and three Premier League titles since it was acquired by Russian billionaire Roman Abramovich a decade ago, and Spain's Barcelona are also looking for partners.
"It would be a good bellwether for where these clubs are generally," Crow said.
Standard Chartered has sponsored Liverpool since July 2010. The London-based bank renewed its sponsorship for a further two years in July 2013. CEO Peter Sands is under investor pressure to show he can steer the bank through slowing economic growth in Asia, a region where the company gets about three-quarters of earnings.
Liverpool was bought by a group led by Boston Red Sox principal owner John W. Henry in 2010.
Before it's here, it's on the Bloomberg Terminal.
LEARN MORE