Jeep Seeking Further Growth After Topping 1 Million Sales
Mark Clothier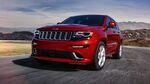 Jeep, which topped 1 million sales for the first time last year as cheap gasoline fueled SUV demand, is targeting further growth for the rugged brand.
Global sales advanced 39 percent to 1.02 million led by Cherokees, Grand Cherokees and other sport-utility vehicles, Jeep owner Fiat Chrysler Automobiles NV said today in an e-mailed statement.
Fiat Chrysler is expanding Jeep's U.S. lineup this year with the subcompact Renegade and plans to add production in Europe, Brazil and China, the world's largest auto market. Jeep will also introduce a refreshed Grand Cherokee this year, the brand's Chief Executive Officer Mike Manley said in an interview today. The Cherokee name returned to the U.S. market in late 2013 after last being used for a Jeep model in 2001.
The Renegade, which goes on sale in the U.S. by the end of March, started deliveries in Europe in November, selling about 9,000 models in the region's main markets, Manley said.
"November and December are not the biggest months for sales in Europe, so it's a really good start," he said.
Production in China should begin by the end of this year and in Brazil early in the second quarter, he said. By 2018, Fiat Chrysler has said it will make about 900,000 vehicles outside of North America to take advantage of consumer demand in Asia, Europe and Latin America.
"Jeep is gaining more share internationally, so that means they'll be able to better leverage their factories and add capacity in other parts of the world," Richard Hilgert, a Chicago-based analyst with Morningstar Inc., said in an interview. "That all makes Jeep a much more profitable and operationally interesting brand then when it was a mostly U.S. brand."
Topping Forecast
Sergio Marchionne, Fiat Chrysler's CEO, said at last year's Detroit auto show that Jeep sales would exceed the 1 million milestone in 2014. At the same time, Manley said reaching that goal would be a "stretch" and was more realistic for 2015. In 2009, Manley forecast about global sales of 800,000 Jeeps for 2014.
"Coming in at just over a million is clearly an amazing result," Manley said today. "I've just been very pleased with the way the entire portfolio has performed."
The brand's growth in 2014 was led by 692,348 deliveries in the U.S., a 41 percent increase from a year earlier, making it the fastest-growing major auto brand in the U.S. market, where gas prices are at their lowest since 2009.
Popular Cherokee
Jeep global sales have soared more than fourfold since 2009, buoyed by well-received new products and demand for SUVs. The popularity of the new Cherokee, which sold 178,508 in its first full year in the U.S., helped the brand reach its goal sooner than Manley anticipated. The SUV also helped Fiat Chrysler to gain the most market share of any major automaker.
The company, created by the merger of Fiat SpA and Chrysler Group LLC, increased its sales in the U.S. by 16 percent last year, lifting its market share to 12.7 percent from 11.5 percent in 2013, according to researcher Autodata Corp. The automaker now based in London moved its listing to the New York Stock Exchange from Milan in October. The company's shares gained 3 percent to $11.59 at the close in New York.
Before it's here, it's on the Bloomberg Terminal.
LEARN MORE