India Stock Sales to Lift World's Lowest Float: Chart of the Day
Santanu Chakraborty and Bhuma Shrivastava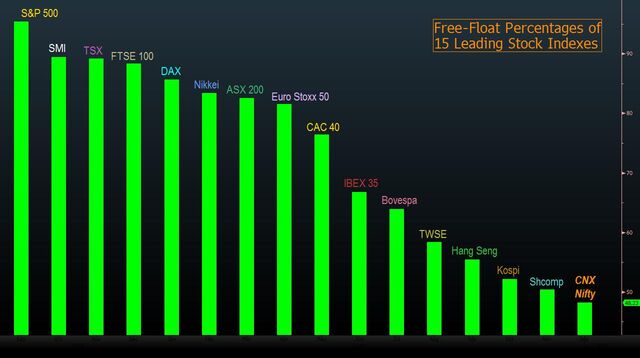 The surge in Indian stock sales planned for 2015 is set to alleviate one of the biggest deterrents for foreign investors in the nation's $1.6 trillion market: there aren't enough tradable shares.
The CHART OF THE DAY shows the free float, or stock available for trading, as percentage of total shares in benchmark gauges among the world's 15 biggest markets. India's CNX Nifty ranks lowest at 48 percent, with the Shanghai Composite Index second-tightest at 50 percent. The U.S.'s Standard & Poor's 500 Index is the most liquid, at 95 percent, according to data compiled by Bloomberg.
India's low free float, a consequence of high share ownership by company founders, deters some investors because they are unable to buy or sell large positions easily. The proportion will climb to 52 percent this year as regulators encourage more equity sales and the government speeds up divestment of stakes in state-run companies, according to Birla Sun Life Asset Management Co.
"Low float is certainly a bottleneck to institutional investors looking to enter and exit, and has affected the inflows," Sankaran Naren, chief investment officer at ICICI Prudential Asset Management in Mumbai, said in an e-mail. "If it improves, we expect to see increased flows from foreign institutional investors."
The government is expected to sell shares worth $16 billion by March 2016 to pare its fiscal deficit, according to Jagannadham Thunuguntla, chief strategist at SMC Capital Pvt. Higher float will also lead to a higher weighting for Indian shares in global indexes such as those compiled by MSCI Inc., said A Balasubramanian, chief executive officer at Birla Sun Life Asset, which has about $17 billion.
The Nifty gauge rose to a record on Nov. 28 amid expectations Prime Minister Narendra Modi will take steps to boost economic growth after winning India's biggest election victory in three decades in May.
Before it's here, it's on the Bloomberg Terminal.
LEARN MORE