How a 574% Stock Gain Highlights What's at Stake for Abe
Tom Redmond and Yuko Takeo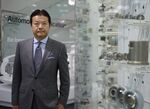 A 574 percent rally in Minebea Co. shares is one way the manufacturer embodies Prime Minister Shinzo Abe's ambitions for Japan.
The maker of bearings that branched out into smartphone backlights has surged the most on the Nikkei 225 Stock Average under Abe, partly due to a weaker yen boosting earnings. The Tokyo-based company paid 18 percent more in bonuses this winter after profit jumped, according to its president, Yoshihisa Kainuma. It's using acquisitions to expand faster, investing in factories and businesses and has a 20 percent target for return on equity.
Kainuma's strategy contrasts with peers hoarding cash and cutting capital expenditure even as the currency sends earnings to all-time highs. His focus on the stock price, traditional strengths in manufacturing and a willingness to plow money back into the economy is the combination Abe is banking on to revive Japan. Minebea's success has many reasons, Kainuma said.
"I had a list of measures for the company before I became president and implemented them regardless of the economy," Kainuma, 58, said in an interview in Tokyo on Dec. 26. "We exited some operations and turned others around. In the backlight business, demand has been far beyond what we had expected. And this has all been amplified by the currency."
Kainuma, a former international transactions lawyer who's worked at Minebea for 26 years, became president in 2009, after the financial crisis sent the company's shares tumbling 57 percent the prior year.
Backlight Success
The backlight business, cited by SMBC Nikko Securities Inc. and Daiwa Securities Group Inc. as a reason for bullishness on Minebea, was an evolution of the company's manufacturing tradition, the Harvard University graduate said. He described a process of trial and error that started with making bearings for floppy disk-drives, moved to producing drives themselves, including optical ones, then settled on backlights for smartphones.
It's Minebea's own strategies that have spurred the company's growth, rather than the premier's policy program known as Abenomics, Kainuma said.
As Abe calls on businesses to use record profits to pay higher wages and invest for growth, most of Japan Inc. is clinging to the proceeds. Holdings of cash and deposits rose to an all-time high of 233 trillion yen ($2 trillion) at the end of September, according to the Bank of Japan. Declining capital expenditure helped drive a mid-year recession.
Executives "don't have enough thirst for growth," Kainuma said, when asked why companies don't spend their cash. "Whether they grow or not, pay stays the same. I find this extremely strange. If it was linked to higher rewards, everybody would start doing so."
Salaries, Acquisitions
Minebea was founded in 1951 by engineers from the former Manchuria Aircraft Company upon their return to Japan and now has about 55,000 workers in 18 countries. Its net income doubled in the six months through September as backlight sales jumped and ball-bearing shipments increased, while the yen weakened 5.9 percent. The company isn't sitting on its funds.
Minebea boosted employees' salaries by 2.2 percent in April, Kainuma said. It has announced eight acquisitions in the past three years.
The manufacturer has more than 70 percent of the global market for backlights in high-end smartphones, Kainuma said, declining to comment on specific companies Minebea supplies. It counts Apple Inc. as a customer, according to data compiled by Bloomberg.
"It was a case of things turning out all right in the end," Kainuma said. "For instance, we decided to go into Cambodia, and really our plan was to produce motors, but it ended up becoming a big base for backlight production."
Stock Price
Minebea's 574 percent jump through yesterday from when elections were triggered that brought Abe to power is more than 100 percentage points greater than the next-best stock, Fuji Heavy Industries Ltd. with a 445 percent gain. The Nikkei 225 almost doubled in the same period, buoyed by unprecedented monetary easing that has weakened the yen. Just six companies in the measure declined. Minebea added 0.4 percent today, while the Nikkei 225 was little changed.
"The share price is our report card, and it comes out every day," Kainuma said. "If the stock is doing well, shareholders are happy and employees are too because they can get bigger bonuses."
Minebea was added last year to the JPX-Nikkei Index 400, a government-backed stock measure that seeks to shame executives into improving capital efficiency by excluding companies with low profitability and return on equity. Minebea is targeting ROE of 20 percent in the next three years, Chief Financial Officer Hiroharu Katogi said in an interview in August. ROE stood at 18 percent as of Sept. 30, compared with 8.3 percent for the Nikkei 225, Bloomberg-compiled data show.
Smaller Gains
While 14 of 15 analysts covering Minebea have buy or hold ratings, they don't expect the shares to climb much further in 2015, according to data compiled by Bloomberg. The average target price is 1,843 yen, a 2.4 percent gain from yesterday's close of 1,800 yen.
Kainuma says he's looking to increase production in the backlight business in 2015 as the smartphone market expands, and repeat the success in other areas.
"We're not thinking of boosting market share to 90 percent or something like that," he said. "Keeping it at the current level will be hard enough," he said. "We want to build high shares in niche businesses that we're good at and turn them into core operations. That's our strategy from here on."
Before it's here, it's on the Bloomberg Terminal.
LEARN MORE