Governor Cuomo Remembers Father as New York's Poet-Philosopher
Freeman Klopott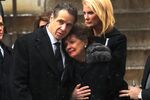 Mario Cuomo, the three-term Democratic governor of New York, master orator and unabashed champion of liberal policies, was remembered by his son Andrew as a poet-philosopher who put doing what was right above all else.
"He was not interested in pleasing the audience, not in speech, not in life," Governor Andrew Cuomo said today in a eulogy at the Church of St. Ignatius Loyola on Manhattan's Upper East Side. "He believed what he believed, and the popularity of his belief was irrelevant to him."
Cuomo, who was 82, died at home Jan. 1, the same day that Andrew, one of his two sons, was sworn into his second term as governor. Though the church was filled with dignitaries, including former President Bill Clinton, Attorney General Eric Holder and Mayor Bill de Blasio, only Andrew Cuomo spoke at the service, fulfilling a wish from his father. The former governor wanted a "simple, local funeral with minimal fanfare," Father George Witt, the church's pastor, told about 1,000 mourners.
The emotional, 40-minute eulogy filled with anecdotes from his youth and professional life was a break in form for the current governor, who is better known for delivering speeches with the guidance of a PowerPoint display than with his heart.
The 57-year-old Democrat described his father as an eternal outsider from Queens -- one of the "outer boroughs," he called it -- and how that, along with his Catholic faith, shaped Mario's life and philosophy. His father was a fierce competitor who used the basketball court as a release when the byzantine politics of Albany weren't enough, Andrew said.
Advocate, Crusader
"At his core, at his best, he was a philosopher and he was a poet and he was an advocate and he was a crusader," he said. "Mario Cuomo was the keynote speaker for our better angels. He was there to make the case, to argue, to convince, and in that pursuit he could be a ferocious opponent or a powerful ally. And he was beautiful."
Mario Cuomo failed twice as a candidate for public office before upsetting heavily favored New York City Mayor Edward Koch in the 1982 Democratic primary for governor. He flirted with running for U.S. president, an opportunity created by his signature address at the 1984 Democratic National Convention in San Francisco.
He used the platform to challenge President Ronald Reagan's declaration that America was a "shining city on a hill" by saying "not everyone is sharing" in the largess.
Not Running
It was Cuomo's eloquence that earned him a national following and made Democrats across the U.S. call for him to run for the White House. The 1984 convention keynote address placed him atop lists of potential Democratic presidential candidates in both 1988 and 1992. He declined to run both times, the second as a plane waited on the Albany Airport tarmac to fly him to New Hampshire to enter the first-in-the-nation primary.
"Why didn't he run for president, people ask?" Andrew Cuomo said today. "Because he didn't want to. That's all."
His bid for a fourth term failed in 1994, thwarted by Republican state Senator George Pataki. Cuomo, who began his rise in politics as an attorney representing New York City neighborhood groups in zoning conflicts, returned to practicing law after leaving office.
"I believe my father's spirit lives in the hope of a young boy sitting in a failing school who doesn't understand the language. His spirit lives in a young girl, pregnant and in trouble," Andrew Cuomo said in his eulogy. "His spirit lives in all those outsiders still living in the shadow of opportunity, still striving to join the family of New York."