Why John Boehner's Slap on the Wrist Could Have Been Harder
GOP rebels celebrate, but they lost some votes on the way to the floor.
By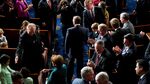 They kept the House in suspense for the better part of an hour. They won a sort of record-books victory, denying Speaker of the House John Boehner 25 votes, shrinking his total to 216. That was two fewer than a bare majority of a full House. Sure, Boehner didn't need 218 votes, because some members were absent.