Ford CEO Mark Fields: Ford Won't Lead the Automated Driving Future
He also sees Google as a possible partner
By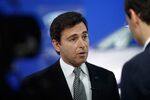 Ford CEO Mark Fields thinks there will be a driverless car on the road within five years, but it won't be a Ford. In an interview with Bloomberg TV, Fields said that Ford's legacy is in making self-driving technology more affordable and will make components, such as automated parking systems and automated highway driving, available first. 
Fields also said he sees Google as a possible partner. That seems like a good bet: Google has been developing a self-driving car inside its Google X lab for the past few years. Fields, who is delivering a keynote address at this year's 2015 CES, also talked about the newest version of Ford's in-vehicle infotainment system, Sync 3, which features more conversational voice interaction. 

Correction: Mark Fields predicted there would be at least one driverless car on the road within five years, not 40 driverless cars, as an earlier version of this story stated. 
Before it's here, it's on the Bloomberg Terminal.
LEARN MORE