Fitness Tracker or Bionic Ear? The Dash Wireless Earbuds Might Be Both
For now the Dash earbuds track biometrics and play music, but their potential is much broader
Belinda Lanks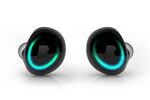 Fitness bands typically don't do much beyond clocking your activity—steps taken, laps swam, calories burned, hours slept. Earbuds are nothing more than tiny speakers. But what if they got married and had a baby, and that baby was both wireless and smart like a fitness band and a tiny speaker that fit perfectly in your ear?
That's the unholy union that calls itself the Dash, a pair of earbuds that packs a laundry list of functions inside a discrete, tiny waterproof gadget, including a fitness tracker (with training feedback), a 4-gigabyte MP3 player, and a Bluetooth headset, among other features. Oh, and they're cable-free, which is terrific for athletes but less good for anyone prone to losing things. 

The Dash, short for "personal dashboard," was a hit on Kickstarter in March, surpassing its $260,000 funding goal by more than $3 million. Since then, a team of 30 developers at Bragi, the Munich-based company making the earphones, have been working to build the promised capabilities into a sensor-laden computer small enough to sit comfortably inside most people's ear canals. The startup says the $299 Dash will be ready to ship in April, and prototypes are on view at this year's Consumer Electronics Show in Las Vegas.
Just like wireless headphones, the Dash can play music by connecting to your smartphone via Bluetooth, although it also has internal storage capacity for about 1,000 songs. Users can turn them off and on by tapping the outside of the device. Beyond that, the earbuds are equipped with 15 sensors that measure everything from how far and fast you've run to your heart and respiration rates. Bragi's chief executive, Nikolaj Hviid, says that the ear is actually a natural place on the body to collect this kind of biometric data. The goal, however, is combining that information into useful feedback, so that the Dash could, conceivably, inform a runner, based on her oxygen-saturation level and heart rate, whether she should slow her pace. 

Hviid says he analyzed 100,000 data sets of ears to create an ergonomic device that fits up to 94 percent of potential users. The Dash comes with three add-on sleeves—small, medium, and large—for a snug fit.
Bragi is creating its own app but has also opened the platform to other developers who want to make apps for the device; he says some 2,500 developers have expressed interest. Given the hardware, Hviid says the possibilities of adapting the software are extensive. The Dash could become a hearing aid or a language translator; one of the more ingenious features is that the earbuds allow for ambient noise, which enhances safety for cyclists (and pedestrians) and also suggests people could wear them more often than not. That, as much as the biometric feedback, is what separates the Dash from other wireless headphones. Plus, for a gadget you have to wear on your head, they're much less dorky than Google Glass. 

Before it's here, it's on the Bloomberg Terminal.
LEARN MORE