Cory Gardner's Grandma Has No Time for Comedian Joe Biden
The vice president fielded a phone rejection and recycled some old material.
By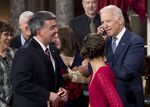 Senator Cory Gardner's grandmother was a bit too busy to speak to Vice President Joe Biden on Tuesday. 
After the freshman Colorado Republican's ceremonial swearing-in, the senator handed Biden a phone so the V.P. could say hello to his grandmother, Betty, who was unable to attend the ceremony in person. After Biden said "Betty, hello," and added, "My name is Joe Biden, vice president," he paused to listen to Gardner's grandmother say something, then replied, "I just swore in your grandson!" 
After Biden got off the phone, he told the group of Gardner's relatives that she had said, "I'd like to talk to you, but I don't have time right now," because she was watching the ceremony on television. 
It is possible that while watching C-SPAN2, Gardner's grandmother may have noticed that a few of Biden's jokes are getting a bit stale and wanted to spare herself from having to endure his punchlines. For example, when pointing to the Senate photographer perched in the balcony, Biden repeatedly said something along the lines of, "Look up, or else he'll jump."
Another tried-and-true joke that he busted out several times was, "I hope you have a big fence around the house," which he likes to deliver upon meeting several teenage daughters or relatives. This year, he used the line several times, including when he met Iowa Republican Joni Ernst's daughter. Biden actually recycled that knee-slapper from two years ago, along with a similar one he used several times this year. When meeting siblings, he told several brothers that they have "one job," to keep the boys away from their sisters.