politics
Jerry Brown Pushes Bullet Train Opposed by Republicans
Michael B. Marois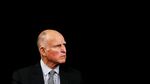 More than six years after California voters approved a $10 billion bond measure to help finance a bullet train system, full-scale construction is finally set to begin even as Republicans in Congress vow to block further funding.
Officials with the California High-Speed Rail Authority will break ground today in Fresno, a farming hub about 150 miles (240 kilometers) south of Sacramento. Crews are set to begin moving utility lines from the route, building a bridge over the Fresno River and digging a trench through a stretch of town for tracks that will carry trains running as fast as 220 miles per hour between San Francisco and Los Angeles.
"We've said all along that this program will move forward," said Lisa Marie Alley, spokeswoman for the authority. "Now we're showing the community and the people that high speed rail in California is happening. Work is under way."
California Governor Jerry Brown, a proponent of the project, yesterday was sworn in for an unprecedented fourth term. In his inaugural speech, he proposed spending $59 billion to fix crumbling roads and raising renewable energy mandates to 50 percent, while projecting that the state's rainy-day fund would rise to $2.8 billion this year.
Eighth-Largest
California, the world's eighth-largest economy and already a nation-leader in policies such as banning plastic shopping bags to climate change regulations and immigrant rights, is the only U.S. state attempting to build a bullet train system like those that are ubiquitous in nations such as China, Spain and Japan. Land owners, farmers and taxpayers groups have tried to block it through the courts.
"We are leaders in renewable energy and efficiency; we have extended health care to millions; we are transforming our educational and criminal justice systems; we are building the nation's only high-speed rail system," Brown said in his annual state-of-the-state speech yesterday.
Republicans, the minority party in the California legislature, criticize the rail line as an expensive boondoggle. Brown, a 76-year-old Democrat, has often compromised with Republicans in the past, working with the minority party to craft a water bond and rainy-day fund that won at the polls in November. In pushing ahead with the bullet train, he is pursuing a personal priority the rival party doesn't support.
'Has a Fan'
"I don't know how high speed this really is going to be," said Senate Republican minority leader Bob Huff. "Sure for the next four years it has a fan, but we don't see Congress supporting it; we don't see the communities it's being built in supporting it and in fact we don't see the general public supporting it anymore."
For the past year, contractors have been performing engineering work, clearing brush and demolishing buildings to get ready for sustained construction.
First Section
The first section of the system will run 130 miles down the state's inner Central Valley. That initial route, connecting some of the least-populated parts of the state, has fed opposition to the effort.
The entire line is scheduled to be fully operational by 2029 with tracks stretching more than 800 miles and trains stopping at as many as 24 stations. Planned spurs eventually would run to Sacramento and San Diego.
"The rest of the world is way ahead of us," said Daniel Krause, the director of policy and operations at the U.S. High Speed Rail Association, an advocacy group in Washington. "Japan just celebrated their 50th anniversary running high speed rail. But California has finally broken through and taken the lead and pushing high-speed rail."
Private Investors
Brown has said high-speed rail is cheaper and more environmentally friendly than building more roads and airports and insists that private investors will step up and help pay for the network, though none have been confirmed.
California was able to get $3.3 billion in federal stimulus money before Republicans took over the House of Representatives in 2011 and cut off funding. In 2012, Democrats who control the state legislature approved spending the first $2.6 billion of the bond funds in order to tap into the federal funds.
In October, the California Supreme Court cleared the way for the state to begin selling some of the bonds for the project. The debt sales had been on hold pending lawsuits challenging the funding plan.
Democrats last year also agreed to direct a quarter of the revenue the state takes in from the auction of pollution credits toward the rail line.
Still, Republicans in Congress say it is unwise to pour more money into a project that only has enough funds to build tracks in the middle of farm country.
Funding Gap
"Congress will eventually see high-speed rail in the U.S., but it just won't be in California first," said U.S. Representative Jeff Denham, a Republican from California who sits on the House Committee on Transportation and Infrastructure. "There's a right way to do it. But there's not only a funding gap in California, the funding is non-existent, and we are going to make sure that there is no more federal money at all going forward."
The rail authority in 2013 signed a $1 billion construction contract for the first 29 miles of the system with a joint venture among Tutor Perini Corp., Zachary Construction Corp. and Parsons Corp.
A consortium of Dragados USA Inc., a subsidiary of Spain's biggest builder Actividades de Construccion y Servicios SA, as well as Flatiron West Inc. and Shimmick Construction Company Inc. last month submitted a winning $1.2 billion bid for another 65-mile leg, below the state's $1.5 to $2 billion estimated price tag.
The authority also plans to spend $889 million to buy an initial set of trains to operate on the tracks, an amount that would rise to more than $3 billion by 2028.
Before it's here, it's on the Bloomberg Terminal.
LEARN MORE