Boston Bombing Trial May Show Whether the Death Penalty is Alive or Just Undead
Mario Cuomo's stand against the death penalty was his signature act of public conscience. But today, it seems no politician will follow.
By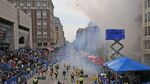 Mario Cuomo, who died last Thursday, was responsible for building more prison cells in New York than any governor in state history. That he is being hailed as the "poet" of American liberalism surprises and frustrates in certain liberal pockets.
But on one prison-related issue—that of capital punishment—Cuomo did please his liberal base. It was his signature act of public conscience, almost a ritual: As governor, year in and year out, Cuomo vetoed legislation that would have restored capital punishment throughout New York. In 1991, on the day of his ninth consecutive veto, Cuomo told the state legislature, "The death penalty legitimizes the ultimate act of vengeance in the name of the state, violates fundamental human rights, fuels a mistaken belief by some that justice is being served, and demeans those who strive to preserve human life and dignity." In 1994, George Pataki, a Republican, unseated Cuomo, and he and the legislature soon reinstated capital punishment as law. But in 2004, with Pataki still in the governor's chair, New York State's highest court halted the death penalty.
Massachusetts, a state of often deeper blue, abolished the death penalty in 1984, nearly 40 years after its last execution. But as 2015 dawns, Massachusetts is likely to be the scene of not one, but two federal death-penalty trials, both in the same Boston courthouse: the just-postponed second sentencing trial of convicted killer Gary Lee Sampson, whom a federal jury sentenced to death in 2003; and the federal trial of Dzhokhar Tsarnaev, accused of bombing the 2013 Boston Marathon with his older brother, Tamerlan, who was killed in a shootout with police after a frenzied manhunt. Dzhokhar Tsarnaev was 19 years old at the time. Jury selection in the case began Monday.
Capital punishment was a bright-line moral issue for Cuomo, but over the past 25 years, the issue has evolved. Where Cuomo seemed to be singlehandedly holding off a deluge, the political situation around the death penalty is now more complex. The majority of Americans today still support the death penalty, but their support is down; in a 2013 poll, Gallup found that it was lower than it has been in more than 40 years. (Opposition rose from the 1950s until the Supreme Court ruled on the constitutionality of the death penalty in the 1970s. Once, in May 1966, opposition to capital punishment exceeded support).
The actual use of the death penalty is in decline, too; since the advent of DNA evidence, significant numbers of inmates on death row have been exonerated and released. Of the 18 states that ban capital punishment, six have done so since 2007—most recently Maryland, where outgoing Governor Martin O'Malley on New Year's Eve commuted the sentences of Maryland's four final death row inmates. And a few more states where the death penalty is legal have moved against it: in recent years, Governor Jay Inslee of Washington declared a moratorium on executions during his time in office, Governor John Hickenlooper of Colorado issued an indefinite reprieve in the only death-penalty case he faced during his tenure, and Governor John Kitzhaber of Oregon said that he would permit no executions on his watch. (Each governor is a Democrat.) The horror of botched executions, plus the prevalence of mental illness or intellectual disability among the executed, have seemed to make even pro-death-penalty constituencies squeamish about the practice.
And yet, while federal death penalty trials are far from common, federal law allows the possibility of capital punishment—which is why, despite Massachusetts state law, Bay Staters are parsing the complex moral, legal, and political issue. The party responsible here is Attorney General Eric Holder, who has quite a different view than did Cuomo of where conscience ends and the law begins on this issue. Last January, the Justice Department announced that it would seek the death penalty against Tsarnaev. When authorizing federal prosecutors—namely Carmen Ortiz, U.S. attorney for Massachusetts—Holder said, "The nature of the conduct at issue and the resultant harm compel this decision."
Holder has stated in the past that he is personally opposed to capital punishment. In 1997, after President Bill Clinton selected Holder for deputy attorney general, Senator Orrin Hatch of Utah asked Holder about his views on the death penalty at a pre-nomination Senate Judiciary Committee hearing. Holder replied, "I am not a proponent of the death penalty, but I will enforce the law as this Congress gives it to us." The passage of the Violent Crime Control and Law Enforcement Act expanded the federal death penalty in 1994. 
Like the country at large, the majority of voters across Massachusetts support the death penalty; according to a July 2014 poll conducted by the Boston Globe, 62 percent supported it, and 29 percent opposed. But this seems to clash with the views of the city traumatized by the attack on the marathon—a Globe poll from September 2013 showed that more than half of Bostonians wanted to see Tsarnaev get life without parole, while just 33 percent favored execution. (Bloomberg's Erik Larson wrote Monday that Tsarnaev's final hope may rest with the city's liberal jurors.) Massachusetts politicians themselves don't seem to be aching for the death penalty, but many who have been vocal against it in the past followed Holder's lead, cognizant of the deep rage over the bombings—and also possibly that Holder's action was not tantamount to a death sentence, especially in liberal Massachusetts. Senator Elizabeth Warren, Governor Deval Patrick, Boston Mayor Marty Walsh, and Massachusetts Attorney General Martha Coakley—all Democrats who have said that they personally oppose the death penalty—each assumed formation behind the U.S. attorney general, declining to speak out against his decision. (Senator Ed Markey, also a Democrat, has said he opposes it, except "in the case of terrorism.")
This puts Warren et al. in the same camp as other politicians, who have enforced the death penalty despite stated personal belief. Senator Tim Kaine, Democrat of Virginia, as an attorney once denounced capital punishment and defended death-row inmates pro-bono. But when he ran for statewide office, he vowed not to stand in the way of Virginia law. Before leaving the governorship, he allowed 11 executions. California Governor Jerry Brown also personally opposes the death penalty, but as state attorney general defended it in court. California's current attorney general, Kamala Harris, announced in August that she would appeal a federal judge's ruling that the state's death penalty was unconstitutional. Although she opposes it personally, she made a promise to voters to enforce it, although no prisoner has been executed since 2006. In fact, the reason a federal judge found it unconstitutional is that it had been applied so sparsely.
In many states, the death penalty seems to be something that officials and voters want to permit in theory but not actually carry out. This might be a necessary hypocrisy, a stroke of pragmatism—which, after all, Cuomo's act of conscience was, in his day.
And the Tsarnaev case may be a kind of watershed for this attitude. The desire to make death-penalty exceptions for terrorism, or for particularly awful crimes, like, for instance, the killing of the Petit family in a home invasion in Connecticut in 2007, belie the fact that the death penalty in most states has become exceedingly rare. The last federal execution was in 2003, after a final meal of fruit: Louis Jones, Jr., a decorated Gulf War veteran who blamed the murder of an Army recruit on his exposure to nerve gas in Iraq. Before that were two executions in 2001, within eight days of each other, and in the same chamber of a federal penitentiary in Indiana: Juan Raul Garza, for three murders, and Oklahoma City bomber Timothy McVeigh. Prior to that, there had been not been a federal execution since 1963, when Victor Feguer was hanged for murder. With Tsarnaev's case, heinous as it is, a jury may ultimately decide whether the federal statute is a relic or, even in Massachusetts, a living law.