Boston Bombing Trial May Show Whether the Death Penalty is Alive or Just Undead
Mario Cuomo's stand against the death penalty was his signature act of public conscience. But today, it seems no politician will follow.
By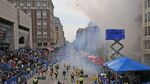 Mario Cuomo, who died last Thursday, was responsible for building more prison cells in New York than any governor in state history. That he is being hailed as the "poet" of American liberalism surprises and frustrates in certain liberal pockets.