Boehner's Restive Republican Caucus Hinders Bid to Build Legacy
Billy House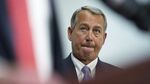 John Boehner's official online biography as speaker of the U.S. House of Representatives boasts that he eliminated legislative pork spending and required bills to be posted three days before a vote.
It's not exactly the legacy of a Henry Clay or a Sam Rayburn. And this next term for Boehner probably won't do much to change that.
Boehner will enter his fifth year as the 53rd speaker of the House with a bigger majority and Republicans in control of the Senate, if as expected he survives a challenge to his re-election as speaker today from a handful of members who want him to take a firmer stance against President Barack Obama.
In the new Congress, Boehner's allies are pushing him to keep a tighter rein on his restive Tea Party caucus, as he did at the end of last year in averting a government shutdown. Doing so will limit his range for legislating and cutting deals in a divided government.
Boehner is promising action on a number of Republican priorities, though the next two years may be less about grand achievements and more about averting trouble for the party.
He is speaker in an era when simply keeping the government from shutting down is scored as an accomplishment, said Paul Brace, a political scientist at Rice University in Houston.
"The question still becomes: Can Boehner cut a deal with the president without arousing strident opposition from the conservative caucus within his own party?" Brace said. "If Boehner cannot thread this needle, it seems unlikely he will produce a legacy based on legislative accomplishment."
Speaker Election
First, Boehner must win re-election as speaker today. Some Republican detractors say he is too quick to compromise and they plan to oppose his hold on the gavel, though they acknowledge they are about a dozen votes short.
The end of 2014 brought a reminder of other challenges facing Boehner. Republican Michael Grimm of New York resigned after pleading guilty to a federal tax charge. Third-ranking Republican Steve Scalise of Louisiana acknowledged that his 2002 speech to a white supremacy group "was a mistake I regret." Boehner promised continued support for the lawmaker.
Boehner, 65, of Ohio wasn't available to discuss his legacy or what's ahead for the two-year congressional session, aides said.
The Nov. 4 election boosted Republicans' control of the House to 247-188 from the previous session's 234-201. With Grimm's resignation, they currently hold one fewer seat.
Early Action
Boehner has promised early action on familiar topics such as passage of the Keystone XL oil pipeline, dozens of jobs bills passed by the House and ignored by the previous Democratic-led Senate, and changes to Obamacare. Republicans want to let employers avoid providing health coverage to workers who put in less than 40 hours a week, up from the law's 30-hour threshold.
"This is just a start," said Boehner at a Nov. 6 news conference, two days after the election.
Boehner also listed plans to "fix the broken tax code," address the nation's debt and rein in energy and environmental regulations -- all areas on which Republicans and Democrats disagree.
The House will "make a direct challenge" to Obama's Nov. 20 order easing deportation for undocumented immigrants, Boehner said at a Dec. 11 news conference.
'Even Harder'
"Finding common ground can be hard work," the speaker said Nov. 6. "But it will be even harder if the president isn't willing to work with us."
The difficulty for Boehner is that the same divisive, anti-government environment that helped pave his path to the top of his party frustrates his efforts to create a legacy based on legislative achievement.
Since becoming speaker, Boehner has gotten help from Democrats to pass appropriations bills, provide aid to victims of Hurricane Sandy, renew the Violence Against Women Act, raise the debt ceiling and reopen the government in October 2013 to end a 16-day partial shutdown.
Last month, 57 Democratic votes were needed to narrowly pass a $1.1 trillion spending bill just hours before government funding was set to run out.
His reliance on Democrats to help pass such bills has drawn the ire of hard-liners in the Republican base.
Others challenge such criticism of Boehner, especially because the larger House majority won by Republicans in November under his watch will be their largest since the Congress that was elected in 1928. It also was Boehner who led Republicans to gain the House majority in the 2010 election.
'Greatest Legacy'
"His greatest legacy is that his leadership has provided a lasting Republican hold on the House of Representatives," said Representative Peter King, a Republican from New York.
Although House Republicans "had few legislative accomplishments, he kept them from imploding," added Steven LaTourette, a former Republican congressman from Ohio who is friends with Boehner. "That allowed the focus of the midterm elections to be on the president rather than the Republicans, and his frenetic fundraising on behalf of his team yielded the obvious results."
The detractors remain.
"I've already said I cannot vote in good conscience for John Boehner" as speaker, Representative Walter Jones, a North Carolina Republican, told a radio interviewer in his home state last month. He said he was among 16 to 18 House Republicans discussing a strategy to vote for someone else.
Long Odds
The odds of them blocking his re-election remain long under the parliamentary process for choosing speakers.
At least two Republicans say they are offering their names as alternatives -- Representatives Louie Gohmert of Texas and Ted Yoho of Florida. "We're up to 18 Republicans now who are publicly on record as saying they will oppose" Boehner for speaker, Yoho said today.
They include Representatives Thomas Massie of Kentucky, David Brat of Virginia, Jim Bridenstine of Oklahoma, Paul Gosar of Arizona, Steve King of Iowa, Marlin Stutzman of Indiana, Justin Amash of Michigan and Daniel Webster of Florida. Also, Jeff Duncan of South Carolina, Curt Clawson of Florida and Tim Huelskamp of Kansas.
In addition, Republican Alan Nunnelee of Mississippi is being treated in Tupelo for a blood clot in his leg and will miss today's vote, his office said.
Unsuccessful Attempt
Opposition to Boehner isn't new. There was an unsuccessful effort by some Republicans to oust him in January 2013 when he won his second term as speaker.
This time, if all 433 other sitting House members -- minus Grimm and Nunnelee -- cast votes and all 188 Democrats oppose Boehner, it would take 29 of the 245 Republicans voting to block his re-election.
Boehner may have some added wiggle room. Second-ranking House Democrat Steny Hoyer of Maryland said some Democrats would miss the speaker's vote, including several from New York attending former Governor Mario Cuomo's funeral.
Some of the 43 newly elected Republicans will include a handful from districts previously held by Democrats -- more moderate lawmakers who owe allegiance to Boehner for their election victories.
King of New York said there should be a recognition within the party that more divisiveness, internal fights and demands for ideological purity could create stagnation or potential losses for the party in 2016. Gains made in 2014 can be fragile in a presidential election year, where turnout is higher.
Fine Line
For Boehner, there may be a fine line between what a larger House majority might accomplish -- such as changes to the Affordable Care Act, curbing federal regulations and rewriting the tax code -- and overreaching.
Democrats will be on watch to point out anything Boehner and House Republicans do that falls short of their promises, as well as continued internal Republican discord.
New York-based pollster John Zogby said he thinks Boehner is seeking to build a bigger legacy and wants to deal with the president, within bounds.
For now, Zogby said, "the best that can be said is that he has suffered during his tenure at the hands of his backbenchers."