business
Australia Is Burning, and Climate Change Is Making It Worse
By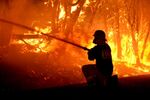 It's summertime in Australia, which means the fires are raging. Every year, the continent's sweltering temperatures and dry conditions create a toxic combination for bush fires that can threaten homes and lead to injuries and deaths. This season's wildfires are particularly damaging, destroying the largest amount of territory in more than three decades. The Insurance Council of Australia yesterday declared a catastrophe for regions near Adelaide in South Australia.
Fires may be inevitable in Australian summers, but climate change is making the problem more severe, says Will Steffen, an adjunct professor at the Australian National University's Fenner School of Environment & Society. "Pretty much all parts of the continent do burn," says Steffen, who is also a councillor with the Climate Council, an NGO in Sydney. As temperatures rise, however, the patterns are changing, with the southeastern part of the country more vulnerable than before. "We are seeing an increase in the most populated areas of Australia. That's really of concern, the fires that can encroach on the edge of cities."
Prime Minister Tony Abbott is a vocal critic of policies designed to combat climate change. And with the wildfires raging, his government probably could have found a better time to release new data showing just how quickly temperatures are rising in the country. This past spring—from September to November—was the hottest on record, the Bureau of Meteorology said in a report published Monday.
"Much of Australia experienced temperatures very much above average in 2014, with mean temperatures 0.91°C above the long-term average," said Neil Plummer, assistant director for climate information services, in a statement. The year was the third-hottest on record, following the hottest-ever year in 2013.
As the continent gets hotter, Australians will need to prepare for fire seasons that start earlier and are more dangerous, says Victoria McKenzie-McHarg, climate change program manager at the Australian Conservation Foundation, an NGO in Melbourne. In New South Wales, for instance, it's now not uncommon for fires to begin in the spring, she says. And in 2010, the government changed its fire weather warning system: The worst rating had been "Extreme," but the Bureau of Meteorology added a new category, "Catastrophic."
Australia isn't the country most vulnerable to climate change, of course. Such places as Kiribati, the nation of tiny islands in the South Pacific, or the Indian Ocean nation of the Maldives, may disappear as sea levels rise. Among developed countries, however, "Australia is expected to be one of the first and worst impacted," says McKenzie-McHarg, "because we have such an extreme climate very vulnerable to changes in temperature."
Before it's here, it's on the Bloomberg Terminal.
LEARN MORE