business
Will Google's Nest Become Central Command for Smart Homes?
The thermostat maker seeks to expand its reach by becoming the thing that connects non-Nest smart devices
Belinda Lanks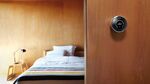 For all the attention paid to Google's Nest, it's easy to forget that the smart-home innovator has only two products: the thermostat that started it all and a smoke and carbon monoxide detector. And the company's not overly concerned about adding more gadgets to its portfolio. Instead, it's positioning itself as central command for all the home appliances it doesn't make. The company has announced 16 new partnerships with the likes of LG, Withings, and Philips as part of the Works with Nest program to connect its thermostat and smoke detector to all manner of devices, from fans and light bulbs to door locks and washing machines. 
Works with Nest has been around for six months; a handful of companies, including Jawbone, Logitech, and Dropcam, already make products that are Nest-compatible. "We're trying to find partners that are doing something [to] bring a really clean and great experience," says Maxime Veron, Nest's head of product marketing. The company has added to its extended family such big, established players as Whirlpool and some more little bitty ones, including August, the smart-door-lock upstart, and Stack, which makes motion-sensor-packed light bulbs that adjust their intensity and color depending on the time of day. 

Essentially, these devices will work in tandem, so that, for instance, when you unlock the front door, the thermostat will adjust to your temperature preference, the lights will turn on, and your clothes dryer will switch over to a quieter mode. The coordinated interactions are a step closer to creating a smart-home ecosystem from a bunch of promising products that previously operated in isolation. They also turn Nest from a smart thermostat (or smoke detector) into a sort of remote control for the rest of the home.
But will nontech-y people have the interest and patience to hook up their various gadgets? Only if the pairing process is as simple as Vernon says it is. Nest account holders can link the products featured on the Works with Nest's homepage after answering several questions and setting up a few rules. "We are really trying to create a platform that enables regular customers—not just geeks—to set up the connection and, in some sense, forget about it," he says. "Because these things should happen in the background. They should make your life easier." 
Before it's here, it's on the Bloomberg Terminal.
LEARN MORE