Why Europe Still Can't Afford a Greek Exit
By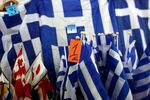 Almost five years after pulling out the stops to keep Greece inside the euro currency union, Europe is waking up to the fact that it still can't afford to cut Athens loose.
Wait a minute. Why should the rest of Europe cling to Greece when polls suggest Greek voters are about to elect a new government that could push the country into default and a euro exit? Haven't the European Central Bank and other European institutions built adequate defenses against potential market contagion if that were to happen?
German Chancellor Angela Merkel appeared to embrace that point of view over the weekend, with a report in the magazine Spiegel suggesting that she believes a Greek exit is all but inevitable and that any fallout would be manageable. But it quickly became clear that hardly anyone—not even Merkel's close allies—shares that view. Even discussing a manageable exit amounts to "playing with fire at a fragile moment in the stability of the euro area," Joachim Poss, a senior member of Merkel's coalition government, told Bloomberg News.
The sad truth is that the euro zone is, in many ways, worse off now economically than it was when the Greek debt crisis began. Growth in the 19-country bloc has slowed to a crawl, and some countries are already tipping into deflation.
What's more, the country most at risk of Greek contagion now may be Italy, the bloc's third-largest economy. It's mired in recession, and its public debt-to-GDP ratio has climbed to a dangerously high 130 percent, about the same level as Greece's in 2010. While the ECB and other European institutions can shore up weak economies through bond-buying and other mechanisms, those measures might not work for Italy. "It is unlikely that the bailout funds are big enough to resolve serious problems in a country like Italy," says Jonathan Loynes, chief European economist at Capital Economics in London.
At a conference in Washington over the weekend, a panel of international economists warned that a Greek exit would set off a new round of global financial turmoil. "It would be Lehman Brothers squared," said economist Barry Eichengreen of the University of California at Berkeley.
As Greece prepares for a snap election on Jan. 25, market anxiety is already running high. Euro area shares on Monday suffered their biggest slump in more than three years. "There's a huge amount of risk," Charles Diebel, head of macro strategy at Aviva Investors in London, said on Bloomberg Television. "People may start to question their investment" in Europe.
Why, then, is Merkel talking about a manageable exit? Most likely the Spiegel report was designed as a "warning sign" to Alexis Tsipras, the leader of Greece's front-running Syriza party, analysts Carsten Nickel and Wolfango Piccoli of Teneo Intelligence in London wrote in a research note. Tsipras has promised to roll back austerity measures while demanding a restructuring of Greece's debts.
In the end, according to the Teneo analysts, Merkel would probably be willing to strike agreements with a new Syriza-led government: "As long as the impression of blackmail is avoided and Tsipras proves to be flexible on his end, there remains room for an eventual deal."
Before it's here, it's on the Bloomberg Terminal.
LEARN MORE