business
This Bike Helmet Can Tell You When a Volvo Gets Too Close
A new concept from Volvo works in tandem with its latest car technology to detect possible collisions with cyclists
Belinda Lanks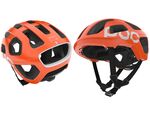 (Corrects the current owner of Volvo in the final paragraph.)
Biking in the U.S., especially in urban areas, is on the rise—and so are cyclist fatalities. According to a recent study from the Governors Highway Safety Association, 722 bikers were killed in 2012, up 16 percent from 680 in 2011. Over the same period, other motor vehicle deaths grew 1 percent. Volvo wants to extend its sterling reputation for safety to cyclists, with a helmet that can alert both biker and driver if a Volvo veers precariously close to a bicycle.
The car company already has technology built into its new XC-90 to detect, warn, and auto-brake to avoid collisions with cyclists. That step, Volvo says, paved the way for the helmet, which lights up below the brim or vibrates to warn of a potential accident. Similarly, the driver receives an alert through a head-up display, even if the cyclist is in a blind spot, behind a bend or another vehicle, or barely visible at night.

The helmet, which was unveiled at this year's Consumer Electronics Show in Las Vegas, connects to the biker's smartphone via Bluetooth. It works with any app that provides GPS tracking, such as Strava, a popular running and biking app. "With this setup, we have two positions we can determine," says Volvo's public-relations director, Sascha Heiniger. "Through the cloud we can now see if those two positions are approaching each other and from what direction and speed."
Volvo worked with two Swedish companies on the project: a sports gear manufacturer, Poc, to make the helmet and Ericsson, which provides the cloud service. "It's mainly connecting existing things and ecosystems to make this happen," Heiniger says.
The helmet is still in the concept phase, and Volvo plans to do further tests before releasing it and—importantly—possibly making the technology available to other automakers. A responsive helmet that only communicates with one kind of car is not a particularly comprehensive improvement. Heiniger points out that the company, which has been owned by China's Geely since 2010, has a tradition of giving away its safety innovations. One of its engineers, Nils Bohlin, invented the modern-day three-point belt system (where the chest as well as the lap are restrained), which Volvo subsequently patented, made standard in its cars, and let everyone else use for free. 
(Corrects the current owner of Volvo in the final paragraph.)
Before it's here, it's on the Bloomberg Terminal.
LEARN MORE