Saudi Crown Prince Assures Cabinet on King Abdullah's Health
Nafeesa Syeed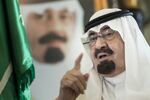 Saudi Arabia's Crown Prince Salman Bin Abdulaziz Al Saud assured the cabinet on the health of King Abdullah almost a week after the monarch was admitted to hospital and diagnosed with pneumonia.
Prince Salman addressed the government at a weekly meeting today, according to the state-run Saudi Press Agency, which didn't provide more details. The crown prince will also deliver the annual speech at the Shura Council tomorrow, according to a statement from the consultative body. He will speak about the country's domestic and foreign policies.
King Abdullah, born in 1924, was admitted on Dec. 31 to the King Abdulaziz Medical City in Riyadh. He required the temporary insertion of tubes to assist his breathing, SPA said. The king had been due to stay in his desert retreat north of the capital until the end of winter.
Speculation about the king's health and his succession comes at a time of growing regional turmoil. Saudi Arabia has joined the U.S.-led coalition fighting Islamic State, the militant group that has seized parts of Iraq and Syria. The kingdom has also played a key part in the oil price slump by resisting pressure for OPEC production cuts.
At 79, Prince Salman has become more active in state affairs and has represented the country at high-level forums abroad, and it's expected that he will succeed King Abdullah, James Fallon, senior Middle East analyst at Control Risks in Dubai, said by e-mail today.
Longer Term
"We are likely to see policy continuity in the short term despite King Abdullah's hospitalization," Fallon said. "Longer term, a new king would likely alter aspects of Saudi policymaking due to the highly personalized nature of governance in the country."
Prince Salman relies on a team of advisers as well as Deputy Crown Prince Muqrin, Lina Khatib, director of the Carnegie Middle East Center in Beirut, said by phone today.
There has been a recent move to empower a branch of the royal family not related to the influential "Sudairi" brothers, sons of the founder of the kingdom, Khatib also said.
"It's highly likely in the current period, that we are going to see this group assert themselves more in Saudi policymaking, and this of course will have an impact on Saudi regional engagement," Khatib said. "Saudi Arabia is a complex country in terms of who rules and decides what."
Before it's here, it's on the Bloomberg Terminal.
LEARN MORE