Netflix Wants to Tell You What TV to Buy
Netflix is using its 50 million-strong subscriber base to flex its muscles with TV manufacturers
By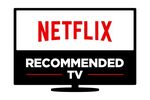 Netflix has no plans to make televisions, but it is planning to tell other companies how to make theirs. At the International Consumer Electronics Show on Monday, the company announced the beginning of a "Recommended TV" program, where it will put its seal of approval on certain televisions.
At the moment, the criteria to get a blessing from Netflix is vague. The program will pick out Internet-enabled TVs that offer "better performance, easier menu navigation, and new features," says Neil Hunt, the company's chief product officer. According to Netflix, that includes TVs from Sony, LG, Sharp, Vizio, and the makers of Roku TVs. Notably missing from that list, as of now? Samsung, which also is the biggest TV manufacturer.

This isn't the first time Netflix has used its relationship with consumers to throw its weight around. A little more than two years ago it introduced an ISP rating system to tell people which Internet companies provide the best performance. That's widely been seen as a way to win leverage in negotiations with ISPs: People have relatively little choice of Internet service providers, but a poor rating from Netflix is a dose of public shame, maybe even enough to lubricate a stubborn round of negotiations.
The "Recommended TV" program is a bit different. Netflix still needs the Internet providers. Not so the TV makers, and it's easy to buy a new television. These are also hard times for TV manufacturers. Sales have slumped, and innovations such as 3D, 4K, and 1080p have failed to move the needle. Netflix, with its 50 million global subscribers, has everything to gain: Who wants a TV that can't meet its standards? Perhaps more important, who wants to be the television manufacturer that doesn't measure up?