Gold Rises for Second Day as Greek Crisis Spurs Demand for Haven
Debarati Roy and Laura Clarke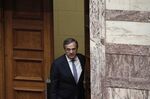 Gold futures rose for the second straight session as Greece's political crisis and a decline in equities spurred demand for the precious metal as an alternative asset.
The euro weakened to the lowest since March 2006 amid a debate on Greece's membership in the European Union. Those concerns helped push the Standard & Poor's 500 Index of stocks toward its first four-day slump in 12 months. Last year, gold fell 1.5 percent as U.S. equities climbed to a record.
"The turmoil in Greece and the the weakness in equities is bringing some investors to gold," Adam Klopfenstein, a senior market strategist at Archer Financial Services Inc. in Chicago, said in a telephone interview. "We are seeing a rise in the haven premium of gold."
On the Comex in New York, gold futures for February delivery advanced 1.5 percent to settle at $1,204 an ounce at 1:48 p.m. On Jan. 2, the price rose 0.2 percent.
"Greece probably doesn't have the potential to cause a systemic crisis as it did a few years ago, but if you're short gold, you probably want to cover," Robin Bhar, an analyst at Societe Generale SA in London, said in a telephone interview.
Speculation that the European Central Bank is moving closer to large-scale sovereign-bond purchases pushed the euro lower, helping gold priced in the currency to climb to the highest since September 2013.
ETP Holdings
In 2014, gold posted a consecutive annual decline for the first time since 1998 as inflation remained muted amid bets that the Federal Reserve will raise U.S. interest rates. Global holdings in exchange-traded products backed by the metal slumped 9.3 percent last year after tumbling 33 percent in 2013.
The outlook for gold is "skewed to the downside" because the correlation with crude oil and euro has strengthened, along with prospects for a U.S. rate increase in mid-2015, Barclays Plc said today in report.
Silver futures for March delivery climbed 2.8 percent to $16.213 an ounce on the Comex. Last year, the metal slumped 19 percent, capping a consecutive annual decline for the first time since 1992.
On the New York Mercantile Exchange, platinum futures for April delivery rose 0.6 percent to $1,210.90 an ounce. Palladium futures for March delivery fell 0.2 percent to $793.20 an ounce, the fifth straight decline.
Before it's here, it's on the Bloomberg Terminal.
LEARN MORE