Giant Inflation Beat Adds Fuel to Basci Debt Plan: Turkey Credit
Isobel Finkel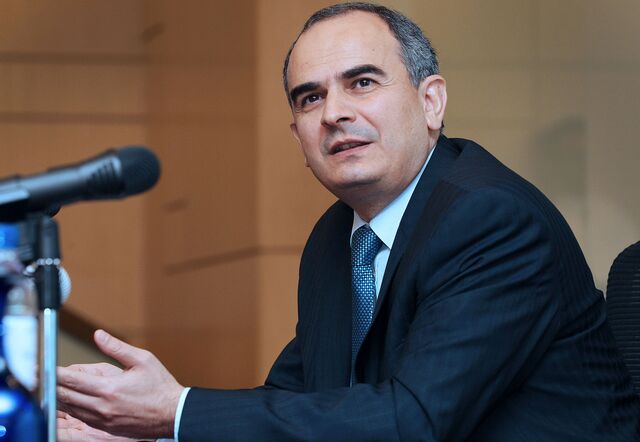 Turkey's bond market is off to one of the best starts in emerging markets this year, and central bank Governor Erdem Basci is in the middle of it.
Two-year yields slid 19 basis points yesterday to 7.93 percent, the most among 22 developing nations, with 10-year rates also lower after a report showed inflation slowed in December by more than all 13 analysts forecast in a Bloomberg survey amid the collapse in oil. Two days earlier, policy makers demanded banks increase their foreign-currency reserves to protect against the risk of a jump in short-term debt costs.
The consumer-price growth data and the change in reserve requirements go some way in addressing concerns raised last month by the International Monetary Fund, which cited a "credibility gap" between Turkish inflation and the central bank's 5 percent target. The IMF also urged steps to tackle a surge in foreign-currency denominated bank debt.
"Turkish markets are likely to outperform emerging-market peers in January," Hasan Demir, an analyst at Istanbul-based Tera Brokers, said in e-mailed comments yesterday. "Easing bond yields in tandem with the improvement in inflation, and positive expectations regarding banks' fourth-quarter results" will drive positive sentiment, he said.
Basci raised the amount banks must set aside to 18 percent of their one-year foreign-currency debt, from 13 percent, starting next month. The net increase won't exceed $800 million, an amount the industry is able to shoulder, Demir said. The central bank could lift the average requirement to 30 percent without significant loss in profitability for lenders, the IMF had said in its report.
Biggest Risk
Foreign-currency borrowing by banks has almost tripled since the end of 2008, and constituted the biggest single risk to Turkey's sovereign credit score, Fitch Ratings said in a December statement.
Even so, two-year Turkish local-currency bonds clocked up the best returns among emerging markets tracked by Bloomberg in 2014. Two-year yields fell a further 14 basis points to 7.79 percent today, while the 10-year rate dropped 10 basis points to 7.71 percent. Both were at their lowest levels in a month. The lira strengthened 0.6 percent to 2.3178 per dollar at 5:12 p.m. in Istanbul.
Slowing inflation and the change to banks' reserve requirements point to the possibility of interest-rate cuts this year, according to Bora Tamer Yilmaz, an economist at Ziraat Yatirim in Istanbul.
Tackling banks' foreign-currency borrowing "may take off some risk" in the lira market, Yilmaz said by e-mail. "The move may allow the central bank to lower rates in the first quarter."
Fed Increase
The central bank is likely to start cutting interest rates at its February meeting, according to Isik Okte, a strategist at TEB Investment in Istanbul. The rate may drop by a total 75 basis points during February and March, Yarkin Cebeci, an economist at JPMorgan Chase & Co. in Istanbul, said in e-mailed comments yesterday.
Inflation slowed to an annual 8.17 percent in December, below the average forecast of 8.78 percent from analysts surveyed by Bloomberg, from 9.15 percent in November. The rate will reach 6.1 percent in the second quarter, the slowest pace in more than four years, according to the median of forecasts on Bloomberg.
"One should not lose perspective amid a huge amount of noise: this is a much higher figure than the 5 percent target," said Murat Ucer, an Istanbul-based economist for Global Source Partners.
Basci's change to reserve requirements is aimed at helping ease any jump in foreign-currency debt costs as the Federal Reserve gets closer to lifting its rates, luring more flows to the dollar from emerging-market currencies. The first Fed increase may be around mid-year, according to analysts including Michael Gapen, Barclays Plc's chief U.S. economist.
ECB Effect
At the European Central Bank, officials are preparing to discuss quantitative easing at their January meeting. ECB stimulus would support investment flows to Turkey, according to Okte at TEB Investment.
Turkish assets are "benefiting immensely from expectations for the European Central Bank to begin easing and cause more inflows into Turkish fixed income," Okte said by e-mail yesterday. December's strong inflation print "definitely sends the right signal that if the ECB starts easing, the Turkish central bank can start a rate-cut cycle," he said.
Before it's here, it's on the Bloomberg Terminal.
LEARN MORE