Fighting Disease, Not Terrorism, Will Save More Lives in 2015
By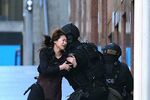 From Boko Haram through Islamic State, the Sydney coffee bar siege, and the school attack in Pakistan, 2014 was a year of concern about a global resurgence of terror. That concern will doubtless drive priorities and budgets from Canberra to Washington, D.C., in the years ahead. Yet for all the attention they receive, deaths from terrorist attacks are a rounding error on violent deaths worldwide, which in turn are a rounding error on global mortality statistics. On the whole, premature deaths have been declining since 2000, thanks to the spread of proven health techniques. If we dealt with the major causes of tragically early death with the same urgency we devote to combating terrorism, we could see even more progress in 2015 and the years that follow.
The National Consortium for the Study of Terrorism & Responses to Terrorism reported 11,000 killed by terror worldwide in 2012 compared with around 4,000 in 2000. The definition of a "terror attack" is endlessly debatable, but let's take those numbers at face value and compare them with other violent deaths.
In 2000, the World Health Organization estimated that a total of 122,000 deaths were due to collective violence, including war. The WHO suggests that by 2012, that had dropped to 119,000. The WHO also reports estimates of 490,000 deaths from "interpersonal violence," including murder, in 2000, rising to 505,000 deaths in 2012. As the world population has increased over the past 12 years, the risk of death from violence has declined from about 10 in 100,000 to less than nine deaths per 100,000 people. And terrorism accounted for perhaps 1.8 percent of violent deaths worldwide in 2012.
The WHO data suggest that on the whole, all forms of violence are a minor cause of death—accounting for just 1.2 percent of all deaths worldwide in 2000 and 1.1 percent of all deaths in 2012. Kidney diseases, liver cancer, suicide, and unintentional falls each killed more people than violence against others in 2012. Heart disease and stroke each killed more than 10 times as many.
The good news is that there has been a massive and rapid drop in premature deaths; around the world, people are enjoying longer lives. In 2000, 43 percent of those who died were below the age of 50. By 2012, that proportion had dropped to 34 percent. That has contributed to climbing life expectancy. Globally, someone born in 2000 could expect to live to the age of 66. By 2012, that had reached 70 years.
Particularly heartening has been declines in child mortality. Some 11.6 million children under the age of 14 died in 2000. By 2012, that number was down to 8 million. Progress against childhood illness since the year 2000 saved more than three million kids in 2012 alone, or more than 300 times as many people as died in terror attacks in that same year.
The past 12 years suggests how rapidly we can make progress if we focus on the biggest causes of tragically premature deaths worldwide—first among which are infectious diseases. Measles alone killed 499,000 children under the age of five in 2000. That dropped by four-fifths, to just 101,000 children, in 2012. This success story is underappreciated. A Web search for news stories suggests 80 times the coverage of terrorism and terror than of measles. And doubtless that's one factor why the U.S. has spent about $1.6 trillion on the global war on terror from 2001 to 2014 compared with less than one-thousandth that amount on rolling out vaccines worldwide through the Global Alliance for Vaccines & Immunizations.
In 2014, a smaller proportion of parents will have gone through the pain of burying their child than in any previous year in history. That's a massive and ongoing victory for humanity that we should celebrate. And we know how to reduce that number further in 2015.  It isn't about drones or cruise missiles; it's about the provision of the most basic public health measures. In the years ahead, perhaps we should spend more attention and resources on waging the biggest battles in the war against premature death worldwide—especially since they're battles we know how to win.
Before it's here, it's on the Bloomberg Terminal.
LEARN MORE