Feinstein Seeks Legislation to Curb CIA Powers on Interrogations
David Lerman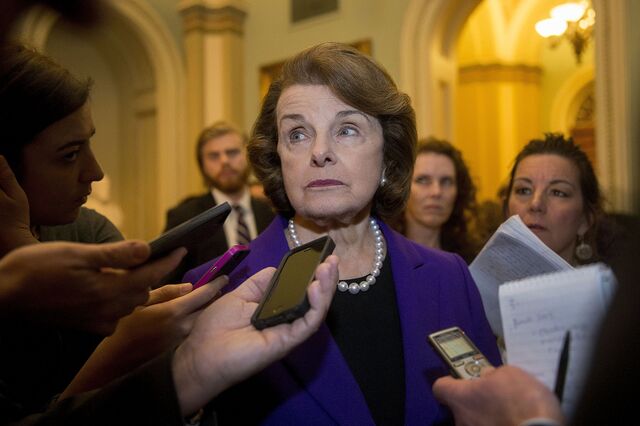 Senator Dianne Feinstein, the outgoing chairman of the Senate intelligence committee, said she plans to introduce legislation curbing the CIA's power to hold and interrogate suspected terrorists.
The measures, most of which President Barack Obama already has adopted by executive order, would bar "coercive and abusive interrogation techniques," prohibit the long-term detention of suspects and require the U.S. to notify the International Red Cross and provide access to those being held, according to a Dec. 30 letter Feinstein sent to Obama that was made public today.
"These recommendations are intended to make sure that the United States never again engages in actions that you have acknowledged were torture," the California Democrat wrote to the president.
The letter, which also recommends administrative changes to Central Intelligence Agency practices, follows an investigation and report issued last month by committee Democrats. That report found that the CIA misled Congress and conducted interrogations that were more brutal and less effective than publicly portrayed. The CIA disputed the findings.
Prospects for Feinstein's proposals may be slim because Republicans -- already angered by an investigation they called biased -- take control of the Senate and its intelligence committee this week.
The new chairman of Feinstein's committee will be Senator Richard Burr, a North Carolina Republican. While Burr pledged last month to do "real-time oversight" of the CIA, he joined other Republicans in criticizing the Democratic report.
Among other recommendations, Feinstein urged that all national-security interrogations be videotaped, that the CIA inspector general be informed of all new covert-action programs and that steps be taken to ensure that contractors don't conduct interrogations in covert programs.
Some previous interrogations of two suspected al-Qaeda leaders were videotaped, but the head of the CIA clandestine service ordered the tapes destroyed in 2005.
Before it's here, it's on the Bloomberg Terminal.
LEARN MORE