Brooklyn Vibe as Hipsters and Craft Beer Come to Jo'burg
Paul Burkhardt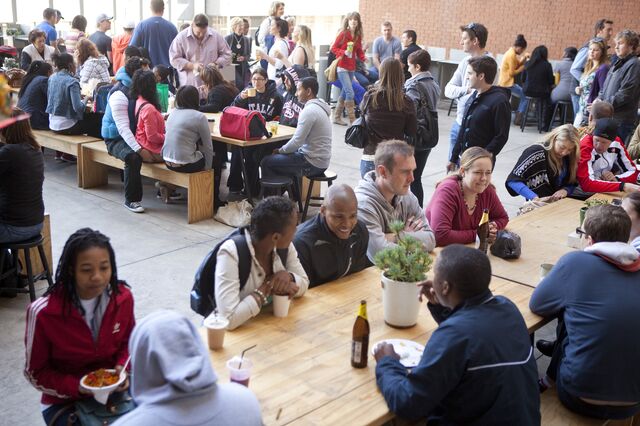 At the Neighbourgoods market in a concrete parking level of Johannesburg's Braamfontein district, where hipsters indulge in organic food and craft beer, the format is familiar to some visitors.
"It all felt very Brooklyn warehousey to me," said Jeralyn Gerba, 33, co-founder of travel website Fathom and a resident of the New York borough, of her visit to the venue while on vacation. Together with her husband, Justin Carter, an international DJ who throws the party Mister Saturday Night, she sipped coconut water and snacked on Thai spring rolls and fried chicken. "It was a real smorgasbord," Gerba said.
The market held on Saturdays, which can draw more than 6,000 people, is the biggest catalyst for growth in the mixed-use neighborhood located on the northern edge of the central business district, according to Adam Levy, 38, a Johannesburg developer who first bought a building there in 2004.
The once fashionable area is undergoing a revival after the end of apartheid in the 1990s was accompanied by an exodus of big businesses to hubs farther north such as Sandton, abandoning many buildings to squatters. That helped stoke a surge in crime.
"We had the idea to change this dogma of fear," said Levy, seated outside at a barbecue restaurant just down the block from Hunter Cycling, a bike shop specializing in vintage and fixed-gear models. Multiracial groups mostly in their 20s wearing vibrant colors, often accessorized with designer sunglasses or beards, crossed the street.
Jo'burg Style
It "highlights the youthful sector of Joburg, the way we dress, the way we are, what we do," Karishma Magan, a 20-year-old accounting student, said as she posed for her sister Tharika to take a photo outside the cycle shop.
There are signs of commercial success. Braamfontein's office vacancy rate decreased to 10.8 percent in October from 13.1 percent six months before. In the Maboneng Precinct, another trendy zone to the east of the business district, a 282-square-meter (3,000-square-foot) apartment sold for the equivalent of $300,000 last year, a record for the area.
In April, Johannesburg-based Arrowhead Properties Ltd., a real estate investment trust, bought eight buildings in Maboneng, which means place of light in the Sesotho language, for 180 million rand ($15.3 million). Still, there's concern the roots of the recovery are shallow.
Gold Rush
"The problem is that these developments are driven by private funding," Mfaniseni Sihlongonyane, an associate professor at the University of Witwatersrand, who lectures on town planning, said in an interview. "They're not necessarily great for the benefit of the city as a whole because they often become islands of growth in the middle of poverty and deprivation."
Johannesburg, now a metropolis of more than 10 million people, was established by mining camps and a grid of ox-cart tracks that surrounded them after discovery of the world's biggest gold field, the Witwatersrand, in 1886. The central district developed over the same area, with boom times marked by Edwardian and Art Deco architecture, now interspersed with office blocks. Downtown's shops were also abutted by the popular Hillbrow district, site of many of the city's nightclubs and where penthouses topped the 54-story Ponte City apartments. Braamfontein was a theater and business district. During apartheid the use of both areas was mostly restricted to the white minority.
Few Obstacles
Now government agencies and private developers are trying to rejuvenate them.
The Johannesburg Development Agency has a five-year operating budget of 380 million rand through 2018. Last year, it co-funded projects to upgrade alleys and streets in the areas, while both Levy and Jonathan Liebmann, chief executive officer of Propertuity, which is developing projects in Maboneng, said the development initiatives are almost exclusively theirs.
"I think where the government has been good in this instance is that they haven't put many obstacles in our way," said Liebmann, perched on a metal staircase, overlooking food stands and galleries in what was a light industrial zone and now includes a hotel and an art cinema. "We're lucky that the areas" are considered general zoning so it allows all usages.
Johannesburg-born and raised artist William Kentridge, 59, who has had an exhibition at New York's Museum of Modern Art featuring three decades of his work in a variety of mediums, found a studio in Maboneng around 2003 that he uses primarily for sculpture and theatrical rehearsals.
'Huge Disaster'
"It was a shell with an earth floor and crumbling walls, but it had the height and the nice, strange, early Edwardian corrugated-iron architecture," he said, sitting at a table that overlooked a small stage under construction for a dance rehearsal. "Maboneng is interesting because it is done on such a low budget and, I presume, as it continues people will spend more money on fixing buildings and the quality of some of the buildings will improve."
Johannesburg's central business district is about a square kilometer (0.4 square mile) and includes the headquarters for the South African operations of mining companies Anglo American Plc and BHP Billiton. Evidence of earlier abandonment by business is the 30-story Carlton Hotel, where guests including former French President Francois Mitterrand and Mick Jagger stayed, dormant since 1997.
Kentridge said he'd been to a dinner in the midst of the district, in the area between Maboneng and Braamfontein.
"The streets when you drove around it at 10 o'clock at night were completely deserted," he said. "Like there'd been some huge disaster that no one had told you about. And that has to change."
That may be happening.
"You didn't get many people flocking to this area and now you do because there is so much to do, there's lots of activities and places to chill, drink, eat," said Karishma Magan. "I have a lot of hope for this place."
Before it's here, it's on the Bloomberg Terminal.
LEARN MORE