Withings Releases a $150 Smartwatch for the Masses
Think of Pop as a souped-up watch rather than as a fitness tracker
Belinda Lanks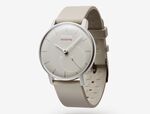 Wearing a fitness tracker is a bit like making a New Year's resolution: You start off eager, your initial enthusiasm wanes, you slowly backslide into bad habits a few times, and you eventually abandon the goal—only to dust if off the following year with renewed conviction. About a third of people who buy wearables stop using them within six months (pdf). Withings knows that, which is why the company has released a $149.95 smartwatch that is first and foremost an attractive, unisex timepiece. 
The company, which is best known for its sophisticated digital scales, dubs the new product Pop as a nod to the untraditional color palette (blue, gray, or sand) of its 36-millimeter-diameter face. The watch is an affordable version of Withings's earlier smartwatch Activité, whose Swiss-made quality impressed reviewers but whose $450 price tag dissuaded some consumers. Pop is produced in China out of cheaper materials—Activité's upscale calf-leather band is replaced with a silicone one—but it still has the core functionality of the higher-end model: Pop tracks steps taken (and other activities, such as running or swimming) and sleep quality and wakes you up with a soft vibrating alarm.

The only clue to these smart features is a third dial in the lower right-hand corner of the face that displays the percentage of your goal you've achieved. Apart from that, the watch is an activity tracker geared to those who want to stay in shape without coming off as gym rats or obsessive quantified-selfers. "We want the real mass market," says Withings Chief Executive Cédric Hutchings. "A lot of the things that have been accepted by early adopters are not acceptable by the mass market and 'the rest of us.'"

Pop's familiar form factor is meant to appeal to the entrenched Luddite in all of us, while the subtle third hand answers the most pressing question on our minds: Have I done the bare minimum to maintain my health? Those who want more precise data can turn to Withings's Health Mate app, which collects and displays data on activities, including sleep, from the watch via Bluetooth. In essence, Pop is a souped-up watch rather than a fitness tracker that can also provide the time.

Another benefit over an ordinary watch: You rarely have to take it off. It's water-resistant up to about 100 feet and doesn't need to be charged. And if you find that you never put it on again after the battery goes dead in eight months, at least you made it past the six-month mark without shelling out $450 on an obsolete wearable.
Pop is available for iOS users in limited numbers on Best Buy today and both online and in stores in March. 
Before it's here, it's on the Bloomberg Terminal.
LEARN MORE