Troops Should Start Return From Ebola Zone, Senator Says
David Lerman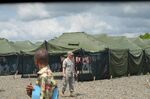 At least 1,000 troops deployed to Liberia to help combat the Ebola virus should be brought home because their work is mostly done, U.S. Senator Chris Coons said.
The outgoing chairman of the Senate Foreign Relations subcommittee on African affairs, who visited Liberia last month, said the U.S. military can begin scaling back its work in West Africa and make better use of the money spent there.
"We can bring home a thousand or more of these troops now," the Delaware Democrat said on CBS's "Face the Nation" program today.
"They're currently bored because they've accomplished a lot of their mission of building infrastructure, building new Ebola treatment units all over the country, deploying new military testing labs all over the country, and setting up a vital infrastructure," Coons said.
President Barack Obama authorized sending as many as 4,000 U.S. military personnel to West Africa last fall to build treatment centers and do other work that doesn't involve direct contact with Ebola patients.
Coons said he visited 2,400 troops from the 101st Airborne Division now in Liberia.
"The raging epidemic that threatened the whole country in September is now down to a few embers scattered across the country," Coons said. "But we need a new strategy to adapt to conditions on the ground."
Coons said some troops should remain "for the rest of the year" to help Liberians transform Ebola treatment centers into community health clinics and local labs.
The Pentagon established no deadline for its Ebola-fighting mission. The deadly virus has killed more than 7,500 people in West Africa, mostly in Liberia, Sierra Leone and Guinea, according to the World Health Organization.