Pakistan's Central Banker Sees 8% Growth on Terrorism Fight
Naween A. Mangi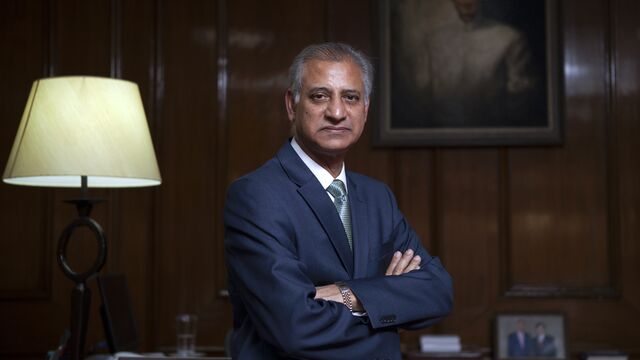 Pakistan's central bank chief sees the country's economic growth almost doubling to 8 percent as politicians unite to battle terrorism in the wake of a child massacre at an army-run school last month.
"I'm optimistic because this is the first time in many years that the political parties are struggling in unison to find solutions," Ashraf Mahmood Wathra, 59, said on Jan. 2 at his wood-paneled Karachi office, his first interview since he was appointed in April as the third head of the State Bank of Pakistan in four years. "They seem to be very serious."
Opposition parties ended five months of street protests against Prime Minister Nawaz Sharif after Taliban militants killed 134 students on Dec. 16 in one of the country's worst terror attacks. Wathra didn't give a timeframe for growth to reach 8 percent, up from 4.1 percent in the year ended June. Pakistan's economy last grew more than 8 percent in 2005.
Sharif has struggled to revive the economy since taking office in May 2013 as terrorism and political discord hinder efforts to privatize state-run companies and ensure a steady power supply. Growth will pick up to 4.3 percent this fiscal year from an average 3.8 percent over the past four years, the International Monetary Fund projected last month.
"Eight percent growth is possible but not immediately," said Yawar-uz-Zaman, vice president at Shajar Capital Pvt. in Karachi. "Provided we continue eliminating terrorists, which will encourage foreign and local investment, we may achieve this target in five years."
All-Party Consensus
All political parties agreed to change the constitution to ensure that military courts can hold quick trials for accused terrorists, Sharif said in a Jan. 2 statement. It reiterated recent commitment to "degrading, dismantling and destroying all forms of terrorism," moving from a decades-long policy of targeting militants that strike in Pakistan while indirectly supporting those that attack abroad.
Foreign direct investment rose 19 percent from a year earlier to $423 million in the five months since June, when the Pakistani military began bombing militants in tribal areas near the Afghan border.
"Pakistan could open up to business and foreign investment interest once again" when terror is quelled, Sakib Sherani, chief executive officer at Islamabad-based research company Macroeconomic Insights, said by e-mail. "The war on terror has done incalculable damage to Pakistan's economy since 9/11."
Terror attacks have cost Pakistan about $29 billion in the three years through June 2014 and the $232 billion economy has lost $102 billion since the U.S. invaded Afghanistan in 2001, the government estimates.
Asset Sales
Governor Wathra, who has 35 years of banking experience, said the administration also needs to do more to improve public finances. It scrapped its biggest share sale in eight years amid the anti-government protests and slumping oil prices.
"We certainly missed our target on the sale of OGDC," Wathra said, referring to Oil and Gas Development Co. "We expect the divestment of Habib Bank to do extremely well. The banking market attracts a lot of foreign investors."
Pakistan plans to garner about $1.2 billion by selling a 42 percent stake in Habib Bank Ltd., the nation's largest by assets, as it works toward meeting goals under an IMF program.
Progress has been "broadly on track," the Washington-based lender said. It last month disbursed a $1.05 billion loan, taking total receipts to $3.2 billion under the $6.8 billion facility agreed in 2013.
Independence Key
It reiterated that central bank independence is key for a better monetary policy framework and called on the government to allow the bank full operational independence with price stability as its main objective.
The IMF has extended the deadline for the State Bank of Pakistan Act to be changed to allow complete autonomy, the central bank said in an e-mailed response today. Since the "legislative process takes time," the government now has until the end of March 2015 to pass the law that was earlier due by June 2014, he said.
Pakistan's rupee, which gained about 5 percent last year in Asia's best currency performance, was little changed from Jan. 2 at 100.80 per dollar as of 3:04 p.m. local time. The benchmark share index, which also saw one of the region's biggest advances in 2014 with a 27 percent jump, rose 0.1 percent today.
Pakistan's foreign-exchange reserves more than doubled in 2014 to $9.5 billion as the nation, which carries Standard & Poor's junk grade rating of B-, sold $3 billion of dollar debt including $1 billion of Islamic bonds.
Policy Review
Although Wathra is heartened by the developments and last year's 48 percent fall in global oil prices, these wouldn't be the only factors on his mind when he reviews interest rates this month.
The monetary authority will be watching for asset-price bubbles and is cautious about the global commodity slump damping exports, he said.
"We have interesting parameters interplaying," Wathra said. "We are at a stage in our present predicament where we can really go either way. We can either go for tightening or a little bit loosening or maintaining the status quo."
Before it's here, it's on the Bloomberg Terminal.
LEARN MORE