New York City Police Turn Backs on Mayor at Second Funeral
Nabila Ahmed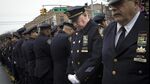 Police officers again protested against New York Mayor Bill de Blasio by turning their backs as he paid tribute to slain cop Wenjian Liu as a man who represented "the very best" of New York City, at a funeral attended by thousands of mourners.
The protesters defied Police Commissioner William J. Bratton's request for respect in the lead-up to the funeral. The incident followed a similar protest at services a week ago of Liu's partner, Rafael Ramos.
Liu, 32, and Ramos, 40, were ambushed in their patrol car Dec. 20 in Brooklyn by a man who claimed on social media to be retaliating for police killings of unarmed black men. The man, identified by police as Ismaaiyl Brinsley, 28, shot himself dead shortly afterward.
Brinsley posted "anti-police" messages on social media that referred to the deaths of the men, Eric Garner of Staten Island and Michael Brown of Missouri, in encounters with white police officers. Grand juries declined to charge the officers in either case, prompting nationwide protests.
Police at Liu's funeral at the Aievoli Funeral Home in southern Brooklyn protested the mayor's policies and comments he made in December about cautioning his biracial son to be careful about dealing with officers. On Dec. 27, hundreds of officers who stood outside a church during Ramos's funeral turned their backs when De Blasio appeared on a video screen.
At Liu's service, the mayor urged a renewed focus on "those great New York traditions of mutual understanding and living in harmony."
"Let us move forward by strengthening the bonds that unite us," De Blasio said. "And let us work together to attain peace."
Before it's here, it's on the Bloomberg Terminal.
LEARN MORE