politics
Here's What 14 Potential Presidential Candidates Say About Their 2016 Timing
A vague calendar.
By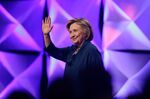 For months now, potential presidential candidates across the country say they have been thinking, praying, talking to their families, and listening to the American people about the big decision to seek the White House. So, how long is all this thinking, praying, talking, and listening going to last?
Former Arkansas Governor Mike Huckabee on Saturday became the latest would-be contender to give us a clue. The Republican said he will decide by late spring—and is leaving his show on Fox News to ramp up his exploration.
At least two others appear to be getting close: Former Democratic Senator Jim Webb of Virginia announced plans in November to form an exploratory committee, and former Florida Governor Jeb Bush, a Republican, said in December that he would "actively explore" a run, then promptly cut several business ties. 
For your convenience, and to help keep politicians accountable for their vague self-imposed timeframes, here is what 14 would-be candidates have said about the calendar.
Senator Bernie Sanders: "By March"
The independent senator from Vermont said in late December that he would make a "gut decision" about running, and about whether he would run as a Democrat or independent, by March. "I don't want to do it unless I can do it well," Sanders told the Associated Press. "I don't want to do it unless we can win this thing."
Ben Carson: "Before May 1"
According to Carson, a Republican former neurosurgeon, his decision hinges on whether people actually want him to run. "I would just say that I am listening extremely carefully," he told NewsMax on Friday. "I don't want to do something that the American people do not want me to do."
Texas Governor Rick Perry: "As early as May"
Perry didn't announce his 2012 White House bid until mid-August 2011, so May actually is an early start. According to the Dallas Morning News, the Republican said in December that "he expects to make his decision as early as May" and added that wasn't worried about Bush entering the field.
"I really haven't been paying attention on whether someone's in or out," Perry said. "I'm not surprised that somebody wants to be president of the United States."
Senator Marco Rubio: "Sometime early" in 2015
Rubio, a Florida Republican, told the Hill in mid-November that "we're going to think about it, we're going to spend the next few weeks like anybody else would, and we'll figure out the right choice sometime early next year." A month later came Bush's announcement, but Rubio said that won't influence him. "If I don't run, it won't be because Jeb is running," he told the New York Times Magazine last week.
Senator Rand Paul: "Early spring"
The Kentucky Republican announced on Dec. 1 that he is running for for re-election to the Senate in 2016. As for the presidency, Paul strategist Doug Stafford said the senator would decide in "early spring." 
One factor he will have to consider is whether he get around a state rule preventing him from appearing on the ballot for Senate and the presidential nomination at the same time. Kentucky Secretary of State Alison Lundergan Grimes, a Democrat, said last month that she would take Paul to court over the issue if necessary.
Former Governor Mike Huckabee: "Late in the spring"
The Arkansas Republican gave that update on the final episode of his Fox News show on Saturday.
Governor Martin O'Malley: Spring
In September the Maryland Democrat told the Washington Post that he would "probably" reach a decision by late January, though in the same article he said he didn't have a timeline for a formal announcement. In December, however, the Post reported that O'Malley would "probably push off an announcement about running for president until spring," citing "several people helping him prepare for a possible bid."
Former Senator Rick Santorum: About June
"Four years ago, we ended up announcing in June of 2011," the Pennsylvania Republican told Politico in November. "If past is a portent of the future, that's probably a ballpark."
Governor Chris Christie: "First part of" 2015
During a middle-school assembly in December, the New Jersey Republican said that he was definitely thinking about running and would discuss it with his family over the holidays. "I'll probably figure it out the first part of next year, and let everybody know what I'm going to do," he said, according to the Ashbury Park Press. "We'll spend some time, sit down and talk about all of it and try to make a decision."
Former Secretary of State Hillary Clinton: "Probably after the first of the year"
The Democratic frontrunner announced she was forming an exploratory committee for her 2008 campaign on Jan. 20, 2007. As for this cycle, she said in early September that she'd make a decision "probably after the first of the year about whether I'm going to run again or not."
Governor Bobby Jindal: The first half of 2015
The Louisiana Republican has said several times that he'll make a decision early this year. In November, during an appearance on NBC's "Meet the Press," he said he'll decide by the first half of 2015. "We are praying on this," he said.
Representative Paul Ryan: "I'll deal with it in 2015"
In early December, the Wall Street Journal asked the Wisconsin Republican if the political world could rule him out of the 2016 race. "It's a decision I've long been saying, 'I'll deal with it in 2015,'" he said. "I'm a person who likes deadlines, and timelines. I'm sticking to my timeline, so I'll make the decision in 2015." 
The only definitive answer he has given is that he wouldn't run against 2012 nominee Mitt Romney, who picked Ryan as his running mate. "I would support Mitt. If he were to run, I would not," he told HuffPost Live in October.
No timeline: Governor Scott Walker
The Wisconsin Republican's current position is that the best thing he can do for his 2016 chances is be a good governor. "I'm only viewed as a viable candidate if the things I've done to run my state continue to be effective," he told the Milwalkee Journal Sentinel on Monday. "If the state falls apart, so does any potential campaign. If the state continues to do well, it doesn't necessarily mean I'm running, but it just gives me a viable platform if I chose to make that decision." He told the paper he doesn't have a set timeline.
No timeline: Senator Ted Cruz
The Texas Republican has been staffing up, making trips to Iowa, and preparing to release a new book in May, but has been quiet on when his decision will come. Last month, when Politico asked him about his timeline, he said, "I think it's likely the field will form sometime between January and June of next year."
MORE FROM BLOOMBERG POLITICS
Before it's here, it's on the Bloomberg Terminal.
LEARN MORE