Cowboys Prep for Packers After Second NFL Playoff Win
Erik Matuszewski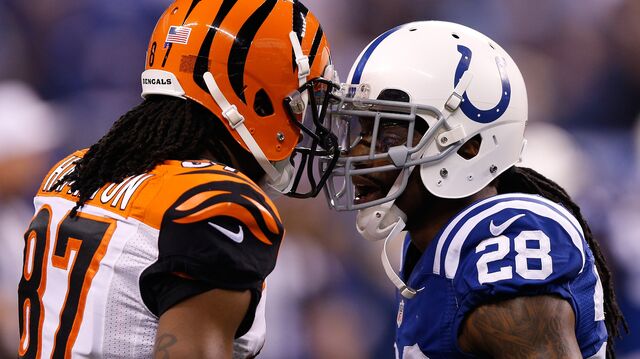 The Dallas Cowboys will play a postseason game in Green Bay for the first time since the 1967 Ice Bowl after rallying past the Detroit Lions 24-20 to close out the National Football League's wild-card weekend.
The Cowboys erased a 20-7 second-half deficit yesterday in Dallas for their second playoff win in Tony Romo's nine years as starting quarterback. Romo threw two touchdown passes to Terrance Williams, including the go-ahead score with about 2 1/2 minutes left, as the Cowboys joined the Indianapolis Colts, Baltimore Ravens and Carolina Panthers as first-round winners.
At least one Super Bowl participant in seven of the past nine years has played in a wild-card game.
"These are hard wins to come by," said Romo, who entered the game with a 1-3 postseason record. "And it's hard to advance. It comes down to a few plays here and there."
The Cowboys sent the Lions to their eighth straight playoff loss, dating back to 1992, tied with the Kansas City Chiefs for the longest such losing streak in NFL history.
The Colts extended Cincinnati's run of postseason futility in yesterday's other game, winning 26-10 at home as Andrew Luck passed for 376 yards and a touchdown, and Adam Vinatieri kicked four field goals. The Bengals have lost seven playoff games in a row, with their last postseason win coming in 1991.
The Cowboys' 40-1 odds of winning the Super Bowl are the longest of the eight remaining playoff teams, according to William Hill Race and Sports Book in Las Vegas.
The defending champion Seattle Seahawks are the favorites at 5-1, with the Denver Broncos at 11-2. The New England Patriots are 10-1, followed by the Packers (15-1), the Panthers (22-1), Colts (25-1) and Ravens (35-1).
Record Comeback
Romo passed for 293 yards yesterday as the Cowboys logged their record 34th postseason win. It was the first time in team history they've won in the playoffs when trailing by 10 points or more at halftime.
Romo said he's more patient since his last appearance in the playoffs, after the 2009 season, ended with a 34-3 loss to the Minnesota Vikings.
"I didn't do a good enough job of understanding the game wasn't over early," Romo said about his previous postseason experience. "Just keeping your poise and understanding that you can't give them the ball. You've got to play smart. You want to move the chains, you want to score, but you have to understand that you have to just keep yourself in it."
The Cowboys' winning touchdown came after a Lions' drive ended when officials overturned a pass interference penalty on a 3rd-and-1 play in Dallas territory with 8 1/2 minutes left. Romo connected with Williams, who also had a 74-yard scoring catch, on a third-down play from the Lions' eight-yard line.
'Peck Away'
"Our offense continued to peck away and I thought Tony did a great job continuing to hang in there, finding completions and making a lot of big plays," Cowboys coach Jason Garrett said at a news conference. "It's what this thing has been all about from the start -- guys fighting for each other and fighting for what we want to accomplish."
Dallas is a 6 1/2-point underdog for the Jan. 11 game against the Packers, who had a first-round bye.
It's the first NFL playoff game between a team that went undefeated at home and a team unbeaten on the road since 1972, when the Miami Dolphins faced the host Pittsburgh Steelers.
The Cowboys' last postseason game in Green Bay was the 1967 NFL Championship Game, which has been immortalized as the Ice Bowl due to sub-freezing temperatures and frozen turf. That game, which featured Hall of Fame coaches Tom Landry for Dallas and Vince Lombardi of the Packers, was won 21-17 by the Packers when Bart Starr scored on a quarterback sneak in the closing seconds.
Underdog Panthers
The Panthers are 11-point underdogs against the host Seahawks in the other National Football Conference divisional game on Jan. 10.
The second team to make the postseason with a losing record, the Panthers beat Arizona 27-16 two days ago for their fifth straight win. Carolina held the Cardinals to 78 yards, the fewest in NFL playoff history.
Indianapolis is a 7-point underdog for its Jan. 11 divisional game against the host Broncos and former Colts quarterback Peyton Manning. The Colts opened the regular season with a 31-24 loss on Sept. 7 at Denver.
"We know they're a great team," Luck, who led the NFL with 40 touchdown passes this season, said yesterday. "Hopefully we can limit mistakes, put some points on the board, have our defense play lights out like they did today and get great special teams."
The Colts outgained Cincinnati 482-254 in total offensive yards yesterday to give Bengals coach Marvin Lewis a sixth playoff loss without a win. Jim Mora is the only other NFL coach with an 0-6 playoff record.
Baltimore is a 7-point underdog against the host Patriots in this week's first divisional game, on Jan. 10.
The visiting Ravens topped the Pittsburgh Steelers 30-17 two days ago as Joe Flacco threw two touchdown passes to collect his 10th win in 14 career playoff games. Baltimore has won in New England twice during the postseason, in a 2009 wild-card game and again in the 2012 AFC Championship Game.
"You've done it before, so you think you can do it again," said Ravens defensive tackle Haloti Ngata.
Before it's here, it's on the Bloomberg Terminal.
LEARN MORE