Knicks Coach Fisher Says Shutting Down Anthony Is Option
Rob Gloster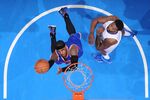 Carmelo Anthony missed his third game with soreness in his left knee as the New York Knicks lost their 10th straight contest, and coach Derek Fisher said the decision might be made at some point to have Anthony miss the rest of the season.
Anthony, the Knicks' leading scorer, has been playing with the knee soreness since the second game of the season. He is in the first year of a five-year, $124 million contract.
With New York at 5-30 this season after last night's 97-81 home loss to the Detroit Pistons, Fisher told reporters that shutting down Anthony may have to be considered.
"From the conversations I've been a part of, I think everybody is smart enough to realize, calendar wise, timing wise, that there may come a point that that's the decision that needs to be made," Fisher said. "We can't force Carmelo to that point just yet."
Before it's here, it's on the Bloomberg Terminal.
LEARN MORE