White Castle Now Serves Veggie Sliders, but Will Anyone Eat Them?
Veggie sliders were among the most popular suggestions from customers at the burger chain
By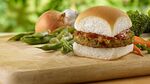 Late-night burger chain White Castle announced this week that it will start offering a 99¢ veggie slider, essentially a vegetarian version of the mini beef burgers the chain is known for. Coming from a company that sells sacks (and even crates) of tiny cheeseburgers to the munchie afflicted, the move is something of a surprise. Especially because veggie burgers and other fare marketed as "healthier" than typical fast food have barely moved the needle at other chains so far.