U.S. Treasury Hires Financial Veteran Phelan as Risk Chief
Ian Katz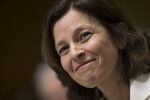 Kenneth Phelan was hired by the U.S. Treasury Department for the newly created position of chief risk officer, a role he previously took at Royal Bank of Scotland Group Plc and Fannie Mae in the aftermath of the financial crisis.
Phelan's Office of Risk Management will also work with the White House's Office of Management and Budget to advise other federal agencies whose activities could affect the Treasury's fiscal and debt-management operations, Treasury spokesman Daniel Watson said in an e-mail today.
Phelan, 55, who started at the Treasury in November, joined RBS Americas as chief risk officer in 2011, three years after the lender's parent received a U.K. government bailout. He led risk management at Fannie Mae from 2009 to 2011, after the mortgage-finance company started operating under a government-run conservatorship, and was hired by Wachovia Corp. for the position in 2008 after the bank suffered record losses on mortgages.
Before that he was head of risk-management services at JPMorgan Chase & Co. and worked at UBS Group AG and Credit Suisse Group AG.
A Treasury memo dated September 2013 and obtained by Bloomberg News said the department intended to hire a chief risk officer to "provide permanent financial risk-management expertise." The department has assumed responsibility for taxpayer rescues at other agencies, including Fannie Mae and Freddie Mac.
Deputy Secretary
Phelan reports directly to the deputy Treasury secretary, Sarah Bloom Raskin.
RBS is 80 percent owned by the British government after receiving the world's biggest bank bailout in 2008 and 2009. RBS led the 2007 purchase of Dutch bank ABN Amro Holding NV for 72 billion euros ($86 billion), which left the Edinburgh-based lender excessively dependent on short-term funding, bringing it close to collapse after Lehman Brothers Holdings Inc.'s bankruptcy in 2008, according to a 2011 report by the Financial Services Authority.
Before it's here, it's on the Bloomberg Terminal.
LEARN MORE