Oregon Routs Florida State 59-20 to Advance to Title Game
Eben Novy-Williams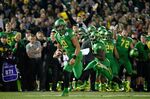 Heisman Trophy winner Marcus Mariota amassed 400 total yards and three scores, as the University of Oregon ran away from defending champion Florida State 59-20 in the inaugural College Football Playoff semifinal.
The favored Ducks forced four turnovers in the third quarter and scored touchdowns on each ensuing drive, turning a five-point halftime lead into a blowout at the Rose Bowl in Pasadena, California. Florida State quarterback Jameis Winston, last season's Heisman winner as college football's best player, accounted for one score and two turnovers in the loss, the first defeat in his 27 career starts.
Mariota threw for 338 yards and two touchdowns and ran for another 62 yards and one score. Running backs Thomas Tyner and Royce Freeman each added two touchdowns apiece, as Oregon scored on its first five possessions of the second half.
"We just tried to out-team them," Oregon coach Mark Helfrich said in a televised interview after the game. "I'm extremely proud of our guys and our coaches, we got a great representation from our fans, and now we've got one more."
The second-ranked Ducks (13-1) will face the winner of No. 1 Alabama and No. 4 Ohio State in the Jan. 12 championship game in Arlington, Texas. Oregon, which has never won a national title, fell 22-19 to Auburn in the championship game after the 2010 season.
First Playoff
This is the first year of the four-team playoff, whose participants were determined by a committee of current and former coaches, athletic directors and administrators, including Condoleezza Rice and Tom Osborne. The group ranked the teams based on five main criteria -- conference championships, strength of schedule, head-to-head matchups, records against common opponents and the impact of injuries.
The loss ends Florida State's 29-game winning streak, which dates back to the 2012 season. It's also the first National Collegiate Athletic Association defeat for Winston, who is eligible to enter the 2015 National Football League draft.
Oregon's 639 total yards and its 59 points are both records in the 113-year history of the Rose Bowl. All seven of the Ducks' touchdown drives took three minutes or less.
"It starts in practice," Mariota said of the team's fast-pace tempo. "These guys were in shape, and for us, we just wanted to use it as a weapon."
With the win, Helfrich triggered a $25,000 bonus to add on to his $1.8 million base salary and $375,000 in incentives that he's already earned. He said he and his team would enjoy the win for a "few hours" before turning their attention to the championship.
"We need to enjoy it, because those guys haven't been beaten in a long time," he said.
42 Points
Oregon entered the game having scored at least 42 points in all eight games since their lone loss. They were eight-point favorites, according to online sports book Bovada.lv.
Oregon finished the regular season 11-1, with the lone loss coming Oct. 2 against Arizona. The Ducks avenged that loss in the Pac-12 title game, beating the Wildcats 51-13.
ESPN signed a 12-year contract in November 2012 to televise the playoffs and selected other games for an average $470 million annually, or $5.6 billion for the duration of the contract.
The NCAA's five major conferences -- including Oregon's Pac-12, and Florida State's Atlantic Coast Conference -- will each receive a minimum of $50 million for their participation, up from about $27.9 million last year, the final season of the Bowl Championship Series.
Before it's here, it's on the Bloomberg Terminal.
LEARN MORE