Liverpool Captain Gerrard Will Leave Club After 17 Years
Danielle Rossingh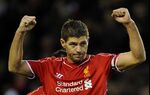 After 17 years, 695 appearances and 180 goals, Steven Gerrard will leave Liverpool, the only soccer club he's ever played for, to compete abroad.
The 34-year-old said the decision to leave Anfield at the end of the current Premier League season was the toughest of his life, and one that "both me and my family have agonized over for a good deal of time."
Gerrard said he made the decision now "so that the manager and the team are not distracted by stories or speculation about my future." He made the announcement in a statement on the team website. Gerrard quit his international career earlier this year after the England national team he also captained had its earliest exit from a World Cup in almost six decades.
Liverpool said today that Gerrard will continue his career outside the U.K. "at a side that will not bring him into direct competition with Liverpool."
U.K. newspapers including the Daily Mirror and the Daily Express have linked Gerrard with a move to Los Angeles Galaxy.
The midfielder joined Liverpool's youth team as an eight-year-old, and was made captain of the senior squad in 2003. His greatest triumph came in 2005, when he scored the first goal against AC Milan in the Champions League final when Liverpool fought back from a 3-0 deficit to tie the match and won the penalty shootout. Gerrard also guided the team to victory in the UEFA Cup, two FA Cups, three League Cups, one Community Shield and two UEFA Super Cups.
'Amazing Player'
"As a player he is immense and the influence he has on games should never be understated," Liverpool Manager Brendan Rodgers said on the club website. "At times he has carried this club on his back and in my time here he has always shown the ability that has rightly seen him be regarded as one of the world's best for well over a decade."
Liverpool striker Mario Balotelli said, "Steven can do anything, he's an amazing player. It's going to be very difficult for the team to find another player like him in the future."
Former England striker Gary Lineker called Gerrard "one of the finest players to have graced the Premier League. A top, top player," on Twitter. Also on Twitter, Jamie Carragher, a former teammate turned television analyst, said: "Sad day for Lfc & English football with the Gerrard news, I think it's the right decision all things considered."
This season, Liverpool has struggled in the league, where it is in eight place. It failed to advance in the Champions League, the region's top club competition, and will face Besiktas in the second-tier Europa League. Gerrard has at times been left out of the squad by Liverpool manager Brendan Rodgers.
Before it's here, it's on the Bloomberg Terminal.
LEARN MORE