Fosun Wins Contest for Club Med as Andrea Bonomi to Drop Bid
Jim Silver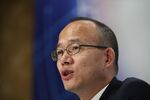 Italian investor Andrea Bonomi's Global Resorts said it won't raise its bid for Club Mediterranee SA, ending its competition with Fosun International Ltd. for control of the French resort company.
Global Resorts will withdraw its offer and sell its Club Med shares, either to Fosun or on the market, Bonomi's investment group said today in an e-mailed statement.
Fosun, controlled by Chinese billionaire Guo Guangchang, raised its offer on Dec. 19 to 24.60 euros a share, valuing Club Med at 939 million euros ($1.13 billion) and topping Bonomi's bid of 24 euros a share. The Chinese company has tried five times in the past 18 months to gain ownership of Club Med, which started on the Mediterranean island of Mallorca in 1950 in a village of used military tents.
Global Resorts concluded it could no longer justify a higher bid, Bonomi said in the statement. "Global Resorts is satisfied that a higher valuation was achieved for minority shareholders," he said.
The bidders had said they would focus the struggling resort business on emerging markets that are spurring global tourism. Fosum predicted that if its offer prevailed, Chinese tourists would make up one-third of Club Med's clientele.
The number of international overnight tourists will grow by about 4.5 percent this year, according to the United Nations World Tourism Organization.
Shares of Paris-based Club Med slipped 1 cent today to close at 25.09 euros.
Before it's here, it's on the Bloomberg Terminal.
LEARN MORE