Euro Forecasters See Pain After Worst Year Since 2005
David Goodman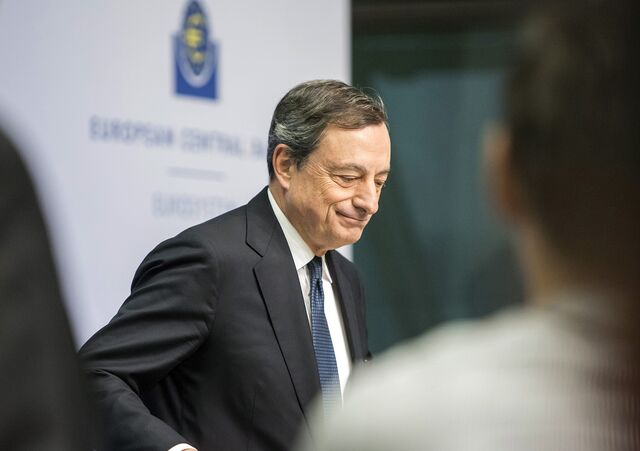 Midway through European Central Bank President Mario Draghi's May press conference in Brussels, the euro rose to its strongest level during his tenure. Then he said the ECB was ready to introduce more stimulus measures, sending it into a slide that strategists say will extend into 2015.
Europe's common currency, which appreciated to $1.3993 that May day, ended last year down 12 percent against the dollar, its biggest loss since 2005. Strategists, who were too timid with their call for a decline in 2014 to $1.28, now see a slump to $1.18 by the end of this year. The euro set a four-year low of $1.2004 today.
A weaker euro is key for Draghi as he tries to spur the region's struggling economy and ward off deflation. He started this year by telling German newspaper Handelsblatt that the risk of deflation in the region cannot be excluded, bolstering speculation policy makers will soon start actions such as buying bonds that tend to weigh on a currency.
"The euro-bearish consensus was struggling hard for the first half of the year, but it has come good as the ECB has driven rates down," Kit Juckes, a global strategist at Societe General SA in London, said in a Dec. 30 phone interview. "The best thing the ECB can try to engineer is still a weaker euro."
Juckes forecasts the euro will weaken to $1.14 by year-end, a level last seen in 2003. It was at $1.2007 as of 12:54 p.m. New York time.
Below Target
With inflation languishing below the ECB's goal of just under 2 percent and the market's outlook for consumer prices crumbling as crude oil declines, more than 90 percent of respondents in a monthly Bloomberg survey in December predicted that the ECB would expand the supply of euros by beginning to purchase sovereign bonds in 2015. That's up from 57 percent the previous month.
"The risk that we don't fulfill our mandate of price stability is higher than it was six months ago," Draghi said in the Handelsblatt interview. While limited, the risk of deflation "cannot be entirely excluded," he said, and "we have to act against such risk."
Since the May meeting, the ECB cut its deposit rate below zero for the first time on record, began a program of targeted loans, and started purchasing asset-backed securities and covered bonds. At the same time, the dollar is strengthening as the Federal Reserve moves closer to raising interest rates.
'Bolder Leader'
At the end of last year, 44 of 59 analysts in a Bloomberg survey said the euro would drop against the dollar, with the median projection looking for a 2.5 percent decline through Dec. 31. That's a less-bearish forecast than at the same point the previous year.
"It's the ECB where we've seen the biggest evolution," Michael Sneyd, a currency strategist at BNP Paribas SA in London, said Dec. 23. "Over the past 12 months, Draghi has been a bolder leader. Our view for the next year is for continued declines in euro-dollar."
BNP expects the euro to decline to $1.15 by the end of 2015, he said.
Some strategists aren't convinced the ECB will be able to push the currency lower, even if it begins purchases of sovereign bonds in a program of quantitative easing.
'Downside Risks'
Draghi reiterated in today's Handelsblatt interview that officials would act should current stimulus be seen as insufficient when it's assessed in early 2015. He said on Dec. 4 that in order to add as much as 1 trillion euros to the institution's balance sheet, "all assets but gold" are under consideration for purchase.
"I want to see how this plays out, certainly through January, before drawing strong conclusions," Jane Foley, senior foreign-exchange strategist at Rabobank International in London, said in a Dec. 23 interview.
Foley predicts the euro will end 2015 at $1.20 and sees "downside risks" to her forecast, she said. "It's very difficult to draw firm conclusions as to how much the quantitative easing will succeed in depressing the euro further because if so much is already in the price, how much further down can the euro go?"
Options traders are paying more than at any time in over a year to protect against further losses for the euro, whose membership expanded to 19 nations at the start of 2015.
The premium for one-year options to sell the euro over those to buy it is 155 basis points. It touched 159.5 basis points on Dec. 18, the most since October 2013.
Traders are willing to pay a higher price for options to sell the euro for every period from one day to 10 years, according to data compiled by Bloomberg.
"Looking into 2015, I think we will move towards a level that does reflect the situation in the economy and monetary policy," Simon Derrick, chief currency strategist at Bank of New York Mellon Corp. in London, said Dec. 22. "$1.10 seems about right for next year. The opening few weeks of the year will be a time to be cautious, but on the whole, do I think the euro goes down? Yes, absolutely."
(A previous version of this story corrected the time reference for forecasts in the eighth paragraph.)
Before it's here, it's on the Bloomberg Terminal.
LEARN MORE