Ellington Exits Single-Family Rental Foray in Big Sale
Heather Perlberg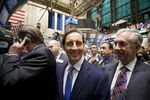 Ellington Management Group LLC has gotten out of the rental-home business.
The investment firm founded by Michael Vranos that specializes in mortgage-backed bonds sold 900 houses to American Homes 4 Rent for about $126 million, according to a Dec. 31 statement from the real estate investment trust. That was all of Ellington's homes, said a person with knowledge of the matter, who asked not to be named because the company's strategy is private.
Ellington's exit comes less than two years after it started buying distressed U.S. homes to benefit from the housing recovery. The Old Greenwich, Connecticut-based firm said in April 2013 that it raised $140 million through a private REIT to purchase and renovate homes as well as to acquire and resolve soured multifamily mortgages.
Leo Huang, chief executive officer of Ellington Housing, said at the time that Ellington's mortgage expertise would help it "to target and time markets."
Steve Bruce, a spokesman for Ellington at ASC Advisors, declined to comment on the sale.
Large corporate landlords are expanding with bulk purchases from some investors who started buying houses near the market's trough in 2012 and expected to sell when prices rebounded. American Homes 4 Rent, based in Agoura Hills, California, also bought Beazer Pre-Owned Rental Homes Inc. in July, gaining more than 1,300 houses.
The REIT now owns more than 30,000 properties, making it the biggest single-family landlord after Blackstone Group LP. The private-equity firm's Invitation Homes unit owns more than 46,000 houses.
As the biggest companies continue to grow, they're benefiting from the worst U.S. rental-housing shortage in more than a decade. The lack of supply is helping to drive rent increases. Institutional investors have spent more than $25 billion since 2012 buying single-family homes to rent.
Before it's here, it's on the Bloomberg Terminal.
LEARN MORE