This Year's CES Anxiety: Ending Up Like TV Makers
Many companies at CES are concerned about becoming little more than vessels through which people interact with services provided by Google or Apple
by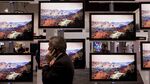 The International Consumer Electronics Show, Las Vegas's annual gadget cornucopia, kicks off this week. Prepare to hear a lot about excitement. There will be plenty of unabashed enthusiasm about big televisions, flashier lights, more-connected cars, and the silliest publicity stunts. Below the excitement, however, runs an undercurrent of fear. 
Many of the tech companies that make a big fuss about CES—think Sony, LG, and Sharp—seem to be whistling past the graveyard on the way to their lavish press conferences. Gadgets are more central to more lives than ever, and yet the companies making those ubiquitous devices have found success more elusive as prices continue to drop. Almost 90 percent of the smartphones in 2010 cost more than $200, according to researcher IDC, while fewer than half of smartphones sold today will fetch that price. Television manufacturers have it even worse than their phone-making counterparts, selling fewer flatscreens and bringing in less revenue over the 2013 holiday season than in the year before.
The trend toward cheaper gadgets is, of course, good for consumers. For the tech industry, falling prices for its newest products change what matters most: Now, controlling the services on a gadget is key, rather than just making hardware and letting Google or Amazon.com handle the experience. "That's where a lot of these historical consumer electronics companies have been slammed," says Crawford Del Prete, IDC's chief research officer.

The struggles of TV and smartphone makers provide a cautionary tale for everyone hawking wearables, smart homes, and connected cars at this year's CES. No one wants to end up like the TV makers, in particular, whose failed promises have been easy to track because its biggest players take the annual trade show so seriously. The Next Big Thing to create a wave of consumer demand was going to be 3D televisions; then it was going to be curved screens. This year's showcase brings the promise of 4K TVs, which offer higher resolution than HD screens.
Will the CES hype work in the real world? The ultrahigh-resolution TVs are catching on, and most new televisions will meet the 4K standard by 2016, says Justin Nielson, an analyst at SNL Kagan. Still, 4K is best seen as an incremental improvement that's unlikely to change the fundamental challenges of the business. You would need an enormous screen or a seat very close to your TV to notice much of a difference between a new 4K product and the HD screen you already own. There's little chance shoppers will decide to buy 4K televisions faster than they would have anyway.
While they focus on sharper pictures, television manufacturers haven't been able to capture the real prize: Internet video. All the major TV makers have their own smart TVs, which give viewers access to the Internet through a series of apps. The idea is to use a service to stay engaged with customers far beyond the day they make their initial purchase. Once you get hooked on, say, Samsung's Internet television product, you'll be reluctant to buy any TV that isn't made by Samsung. The problem is that the most popular Internet TV products are sold separately as cheap peripheral devices: Roku, Google's Chromecast, Apple TV.  
Two Chinese companies, TCL and Hisense, are punting entirely by having Roku build the software for their smart TVs, a partnership unveiled at last year's CES. Roku is looking for additional partners that want to piggyback on the company's existing relationships with media companies and viewers instead of building something on their own. "It's the way to build the TV with the most content out the door," says Jim Funk, Roku's senior vice president for product strategy and management. It's similar to the deal that smartphone makers made with Google when they started using Android as the software for their phones to gain access to the apps that developers were already building. 
This is a mixed blessing for manufacturers, because using another company's software allows that company to establish a primary role between the hardware companies and their customers. That's why TV makers are likely to spend the week talking up their own Internet television software. Many of them also make other products and are hoping to convince customers that a TV is just one purchase in a wider relationship that involves other connected devices.
The company that will take this strategy to its logical extreme is Samsung, whose presence at CES will span from curved televisions (once again) to home appliances and fitness devices. It has a chance to lure customers into its web, because many people already own Samsung smartphones. The problem for many companies that make connected devices or wearable computing—especially the startups—is that they're forced to start from scratch. One solution is to build devices that run on versions of Google's Android software, which the company has been customizing for wearables and smart home devices. Another option: Take a lucrative acquisition deal from a software company with a global audience, the decision made by two buzzy hardware startups at last year's show, Oculus VR (which was bought by Facebook for $2 billion) and Nest (which accepted a $3.2 billion offer from Google).
Car manufacturers are in the early stages of facing a similar dilemma, says IDC's Del Prete. "I think we'll see an epic battle where Google and Apple are going to come in and fight." Both Apple and Google already have their eyes on the dashboard: Google last year announced the Open Automotive Alliance, a partnership with automakers to customize a version of Android linking smartphones to vehicles; Apple introduced a similar service called CarPlay in March.
This year's CES could see a preview of plans to use Google's operating system as the software running computers in the cars themselves, says Thilo Koslowski, a vice president at Gartner and the leader of its automotive practice. Automakers have mixed feelings about this. Google's software is already hugely popular, and adopting a version of it would get car companies out of making their own software, something they're not necessarily much good at. But doing so would also mean ceding the dashboard experience to a tech company, thus losing the chance to stand out against other carmakers.
It's a version of the same problem that has undercut the smartphone and TV manufacturers. Carmakers have a chance to keep Silicon Valley at bay, says Koslowski, but their time is limited. "I always tell the auto manufacturers they have three to five years to have a creative positioning for themselves. If you just open up your dashboard now for Google to come in, you're at risk," he says. "Ultimately the car industry is at risk of becoming the printer, and Google is the PC."
Before it's here, it's on the Bloomberg Terminal.
LEARN MORE