Presidential Hopefuls Have No Time to Waste in 2015
With roughly $100 million to raise, staff to hire, and speeches to practice, the starting gun has already fired.
By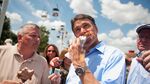 Happy New Year to the more than a dozen people thinking about running for president. Now, get busy. It's 2015 and time for prospective 2016 candidates to get serious about what they need to do to position themselves to have a chance at a successful campaign.