Presidential Hopefuls Have No Time to Waste in 2015
With roughly $100 million to raise, staff to hire, and speeches to practice, the starting gun has already fired.
By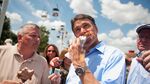 Happy New Year to the more than a dozen people thinking about running for president. Now, get busy. It's 2015 and time for prospective 2016 candidates to get serious about what they need to do to position themselves to have a chance at a successful campaign.
While the next election may seem distant, it really isn't. The Iowa caucuses, the voting that starts the nomination process, are only about 13 months away, and some lesser-important events like candidate debates and straw polls will arrive much sooner. The legwork the prospective candidates do during the first quarter of 2015 will include trying to line up endorsements, recruiting staff and volunteers, and raising money.
"It's the start of the invisible primary," said Linda Fowler, a government professor at Dartmouth College and longtime New Hampshire primary watcher. "People who wait until the fall have been very disadvantaged and have typically not been able to put the resources together."
Ben LaBolt, the national press secretary for President Barack Obama's 2012 re-election campaign, boils down what needs to be done now this way: money, research and recruitment. "The pre-launch period is anything but calm," he said. "This is your chance to measure the mood of the electorate, study up on your prospective opponents, recruit a talented staff and begin to establish your fundraising and grassroots networks."
With those goals in mind, the to-do list for prospective 2016 candidates looks something like this:
1. Figure out why you're running 
It may seem obvious, but presidential candidates often fail to give this question enough thought. The most famous example is probably Ted Kennedy's response to a question about why he wanted to be president asked by Roger Mudd of CBS in 1979. In a response that proved damaging to his candidacy, Kennedy seemed hesitant and rambling and never really answered the question. He started with, "Well I'm… ummm…"
"It's more than just sound bites," Fowler said. "It involves thinking hard about what you think your strengths are and how you want voters to think about you."
So far, Fowler said she sees prospective Democratic candidate Hillary Clinton lacking on this front, despite her long tenure in public service. "You would think that someone like Hillary would have done that, but it's not clear that she has," she said. "It seems that Jeb Bush has been doing that thinking."
2. Build your list
A detailed database of supporters and potential grassroots donors has become central to any modern presidential campaign. Obama's 2008 campaign grasped the importance of this early and it paid huge dividends.
Nicco Mele, who teaches classes on the Internet and politics at the Kennedy School of Government at Harvard University, has estimated that presidential candidates will probably need an online list of 1 to 3 million people to be financially competitive in early 2016. Well-positioned candidates, he has said, likely want to have e-mail addresses for about 1 million supporters by March 2015. Clinton's allies at Ready for Hillary, a political committee that operates independently from the former secretary of state, has already amassed such a list and is prepared to pass it on to her if she decides to run.
3. Court donors large and small 
That database of supporters will help with the raising of small-dollar donations, but big donors and fundraisers also need to be courted. Jack Oliver, a former Republican National Committee deputy chairman and presidential fundraiser, estimates candidates will need $100 million by the end of 2015. Big donors want to feel like they're in the loop and getting in on the ground floor. 2012 Republican nominee Mitt Romney created a model for this year's pack by inviting wealthy backers to his New Hampshire lake house and taking them on boat rides in between policy discussions.
So, introductory e-mails should be dispatched to the politically active titans of Wall Street and Silicon Valley. The super-PAC that helped Romney compete last time around landed million-dollar checks from Oracle's Larry Ellison and private-equity king John Childs, among many others. They've shown they're willing to support Republicans in a big way, and any future candidate would be wise not to leave that money on the table.
And of course Republicans must not forget the billionaire Koch brothers, energy executives who have mastered the art of influencing elections through nonprofit advocacy groups funded by themselves and other wealthy givers. That means a springtime trip to Palm Springs, Calif., may be helpful. At a secluded resort near there, the brothers host their annual powwow for top donors and political operatives.
4. Hire smart staff 
There are only so many people who have ever done this before. The top talent that makes a campaign work is a limited commodity and early recruitment can be key. "You have to recruit that talent now and get them into your organization," said R.C. Hammond, who worked as Newt Gingrich's spokesman in the 2012 campaign. "You have to get your team to play together at the staff level."
Bush's recent announcement about exploring a 2016 bid likely had something to do with his desire to keep top talent from signing on with other prospective campaigns. Senator Marco Rubio already has Terry Sullivan, Romney's 2008 South Carolina director, on the payroll, and Romney's former New Hampshire state director, Jim Merrill, has helped make introductions in the Granite State. Mike Biundo, deputy coalitions director for Romney in 2012, is working for Senator Rand Paul's political action committee. 
5. Practice off Broadway
Places like Washington, N.H., with a population of 1,100, can be much more forgiving than Washington, D.C. For candidates still polishing their messages and presentation, some stage work off Broadway and away from the bright lights can be helpful. The constant presence of smartphone cameras means nowhere is really off the record anymore. Still, if you are going to make a mistake, it's better to do it in rural New Hampshire or rural Iowa.
This intimate exposure to voters will also provide critical feedback about whether there is a connection and whether this is or isn't the right election cycle to make a White House bid.
6. Review your record and those of your potential opponents 
"Candidates need to think about the things they wished they'd done differently and things that they think will be difficult to explain," Fowler said.
That's because their records will be more closely scrubbed by the media and their opponents than ever before. It's also never too early for opposition research. Study up on the lives and records of those people you will be joining on multiple forum and debate stages. Now is also a good time for candidates to clean out their own closets, as Bush recently did by releasing eight years of e-mails sent and received during his time as governor in Florida.
7. Get fit
Running for president is an exhausting task, even for those candidates who can sleep on airplanes and enter the race in robust health. Now would be a good time to lose any extra pounds and work on your stamina and conditioning. Run, bike, swim, play basketball or whatever your favorite physical activity might be. Some practice standing on your feet for long periods of time and functioning well on limited sleep could also be helpful. New Jersey Governor Chris Christie's recent weight loss is widely viewed as a sign that he is seriously considering a presidential bid.
8. Meet the activists
These are the people who will ultimately decide whether your candidacy lives or dies. They live in Iowa, New Hampshire, South Carolina and a handful of other states. Some of them have rather high level of expectations when it comes to wooing their vote, including that they will have the opportunity to meet you in person multiple times. "The activists here are really spoiled," Fowler said of New Hampshire voters. "They expect you to remember their birthdays. You need a lot of deep intelligence in figuring out how to woo them."
9. Meet the press
Making some personal connections with the state and national reporters who will be shadowing your campaign's every move isn't a bad idea, according to Fowler. "Reporters can have a huge effect on how you are framed, so you want to give them something else to think about besides your hair," she said. "Eventually, all this tends to go south and the press becomes an adversary. It's good if you can start out with mutual respect and confidence." Then-Governor George W. Bush of Texas built a cozy relationship with the press corps on his campaign plane in 2000 by giving many of them nicknames, some of which he continued to use during his early White House press briefings.
10. Take a vacation
As the year progresses, the calendars for prospective candidates are only going to get busier. It's probably best to take that spring-break trip your family has been begging for because your summer vacation may be spent flipping pork chops and looking at butter cows at the Iowa State Fair.
Julie Bykowicz and Michael C. Bender contributed to this report.