Yuan Posts First Annual Drop Since 2009 as China Growth Slows
Fion Li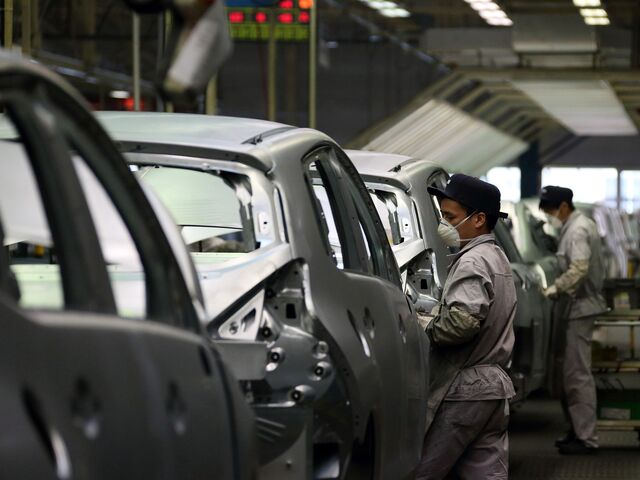 China's yuan posted its first annual decline in five years as a slowing economy prompted policy makers to cut interest rates at a time when the U.S. is preparing to raise borrowing costs amid quickening growth.
Expansion in China probably cooled to 7.4 percent in 2014, from 7.7 percent last year, according to the median estimate in a Bloomberg survey before data due in January. Manufacturing contracted in December for the first time in seven months, a Purchasing Managers' Index indicated today. The Bloomberg Dollar Spot Index, a gauge of the greenback's strength, surged 12.5 percent in past six months.
"The policy-driven decline to change market expectations and a slowdown in the economy contributed to the yuan's drop," said Tommy Xie, a Singapore-based economist at Oversea-Chinese Banking Corp. "In recent months, companies have been holding more dollars as they are worried the Federal Reserve will hike interest rates."
The yuan in Shanghai has weakened 2.4 percent against its U.S. counterpart this year, ending a four-year advance of 13 percent that was the best performance among 24 emerging-market currencies tracked by Bloomberg.
The spot rate fell 0.03 percent to close at 6.2040 per dollar in Shanghai, China Foreign Exchange Trade System prices show. It jumped 0.32 percent yesterday, the most since May, after the government relaxed rules on banks' foreign-exchange holdings, allowing them to hold fewer dollars. China's financial markets will be shut for the rest of this week for New Year's Day holidays.
The PBOC raised the yuan's reference rate 0.06 percent today to 6.1190, trimming this year's decline to 0.36 percent. The central bank guided a retreat in the yuan during the first four months of 2014 by weakening the fixing, a move that helped damp speculation the currency was a one-way appreciation bet.
Volatility Surge
Fluctuations in the yuan have picked up since the central bank doubled the currency's daily trading band to 2 percent in March, pledging to give market forces a greater role in determining the exchange rate. The spot rate traded at a record 1.78 percent discount to the reference rate on Dec. 19. It was 0.7 percent stronger than the fixing on Nov. 6.
One-month implied volatility in the onshore yuan, a measure of expected swings used to price options, jumped 72 basis points this year to 2.57 percent. That's the biggest increase in four years. The yuan's reading is still the second-lowest among developing nations, higher only than the Hong Kong dollar which is pegged to the greenback.
In Hong Kong's offshore market, the yuan slid 2.7 percent this year, the first annual decline since trading commenced in 2010. Twelve-month non-deliverable forwards declined 3.4 percent and traded at a 2.1 percent discount to the spot rate in Shanghai.
The Purchasing Managers' Index for manufacturing was 49.6 for December, HSBC Holdings Plc and Markit Economics said today. That compared with a median estimate of 49.5 in a Bloomberg survey. An official PMI due tomorrow is expected to indicate factory output failed to expand in December for the first time in more than two years, another survey showed.
Before it's here, it's on the Bloomberg Terminal.
LEARN MORE