Who Is Alexey Navalny?
What you need to know to understand Alexey Navalny, one of Vladimir Putin's loudest critics
By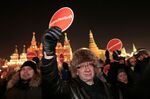 Thousands of Russians gathered near the Kremlin in below-freezing temperatures on Tuesday night, shouting anti-Putin slogans: "No Putin, no war," "Crimea is not ours," and "Putin is a thief." The man who rallied them, Alexey Navalny, may be Putin's greatest domestic nemesis; earlier in the day a court found him and his brother guilty of fraud, charges that many allege were politically motivated. Navalny defied house arrest to join the protests and was quickly detained. If this is your first introduction to Navalny, here's what you need to know to understand Tuesday's upheaval. 
 Who is this guy?
 Navalny is a 38-year-old real estate lawyer-turned-political blogger, who started a website in 2010 to expose corruption at state-owned companies. His scathing criticism won him a loyal audience and the ire of the Putin regime. In 2011, Navalny called some 5,000 Russians to protest parliamentary elections widely panned as fraudulent. Two years later, Navalny came in second in his long-shot bid to become mayor of Moscow, earning a larger-than-predicted 27 percent of the vote. He was sentenced to house arrest in February, after authorities said he violated a travel ban imposed in connection with the criminal case against him for defrauding a cosmetics producer. He was found guilty of those charges Tuesday, but was not sentenced to jail time.
Why is he so angry?
Navalny's brother, Oleg, faced the same charges—but was sentenced to three-and-a-half years in prison. The judge in the case said the legal reasoning for the differing sentences will be given later. Navalny's supporters say the motivation was clear: By throwing Oleg behind bars, the government maintains leverage over Navalny without making him a martyr. "Why are you jailing him?" Navalny reportedly yelled at the judge. "This is a dirty trick. To punish me more?" 
What happens next?
Navalny was briefly detained Tuesday, along with more than 100 other protesters, and escorted by police back to his home, where he is still under house arrest (see: that travel ban). Don't expect him to shut up any time soon, though. After being removed from the protests by police, Navalny immediately moved his dissidence into the virtual world. "The fact that they've detained me means just one thing, that there will be one less person for them to arrest," Navalny told his 870,000 Twitter followers. "They can't detain all of us."
Is this a tipping point for Putin? 
We'll see. Russia is in the middle of its deepest economic crisis since 2009. Under the pressure of Western sanctions and falling oil prices, the ruble plummeted this month, and Putin, whose approval ratings have been strong throughout, is facing a population that's growing panicky. Provoking Navalny, the man who has led the largest protests against the government in recent memory, is a dangerous gambit. "With the prospect of socioeconomic protests, the Kremlin doesn't want Navalny to become more of a leader," Masha Lipman, a Moscow-based political analyst, told Bloomberg. The only thing worse for Putin than a jailed martyr could be a free Navalny.