business
Is It OK to Cheat Airlines if It Saves You Money?
United Airlines and Orbitz are going after Skiplagged.com, which helps travelers save money by booking (then ditching) connecting flights
By and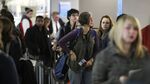 Would you "scam" an airline's ticketing policy if it saved $25? $70? $400?
A federal lawsuit is bringing public attention to "hidden city" ticketing, the technique of buying an airline ticket between two cities with a connection but ditching the rest of the trip. Say, for example, you want to fly from Boston to San Francisco but notice that a ticket from Boston to Seattle—with a connection in San Francisco—is cheaper. Once your flight lands in San Francisco, you prance out of the airport at your intended destination, pocketing the savings.
Airlines hate this maneuver—which has been around for decades—and argue that it violates the terms of the sale. Others contend that it's no big deal. "I think it's fair game," says John DiScala, a travel expert who blogs as Johnny Jet. "I think it's smart for the consumer." Jay Sorensen, a consultant and former executive with Midwest Airlines, argues that airlines also violate the terms of sale with their customers "and then rely on the customer to write a letter to complain to get that violation addressed." (In a phone call on Tuesday, Sorensen noted that his wife, who is also a former airline executive, vehemently disagreed.) "I think there are greater sins in life," he says.
The world's second-largest airline, United, along with online travel agency Orbitz Worldwide, aren't convinced. They've filed suit seeking an injunction to stop a New York programmer's website, Skiplagged.com, from sending United ticket buyers to Orbitz.com to purchase such "hidden city" tickets. The ticketing technique "interferes with United's ability to sell unused seats on the final leg(s) of connecting flights, resulting in the loss of revenue that United would have earned by selling the unused seats," the company said in its lawsuit last month in U.S. District Court in Chicago. The companies also want at least $75,000 in damages and attorney fees. "This practice violates our fare rules, and we are taking action to stop it to help protect the vast majority of customers who buy legitimate tickets," United spokeswoman Christen David said on Tuesday. The airline also says such passengers can cause delays as gate agents try to determine where a person expected on a flight may be. Passenger count also affects a flight's total weight calculation, which can delay the plane's departure.
The problem for the airline industry, of course, is that the public holds them in roughly the same esteem as cable-TV companies and tax collectors. We aren't inclined to be terribly sympathetic about protecting carriers' pricing schemes or saying "no thanks" to a bargain. "Send them to hell, please," wrote someone who donated $666 to Skiplagged founder Aktarer Zaman, who began raising money online in late November to fund his defense against the lawsuit. On Tuesday he boosted his target to $25,000 after quickly passing the prior $20,000 target given media attention on the lawsuit. "That's because I really don't know how much this lawsuit is going to ultimately cost, other than probably a lot," Zaman wrote in a note thanking donors. "However, you have my word that how every cent is spent will be posted here. If there are any remaining funds, those will be completely donated to charity." Zaman did not reply on Tuesday to an e-mail sent via his personal website. 
Hidden city fares are found on almost every airline that operates with a hub-and-spoke system. These cheaper fares arise from the fact that nonstop flights typically command a premium, given that most people—especially business travelers—prefer to avoid connections when possible. That's why American, for example, enjoys strong pricing from its Dallas-Fort Worth (DFW) hub on nonstop routes. Delta and United, meanwhile, have plenty of service on the same routes from DFW Airport, but they typically route passengers through one of their own hubs with a connecting flight. Writ large across the industry, that dynamic leads to "hidden city" fares that can amount to savings of hundreds of dollars.
"If [airlines] didn't try to price flights to certain hubs so high, perhaps you wouldn't have as many people trying to buy hidden city fares," says Henry Harteveldt, a travel analyst with Atmosphere Research Group. Yet given strong customer demand, airlines would be foolish to "leave money on the table" if they can command top prices on some flights, he notes. "To a certain degree then, they encourage this type of behavior," says Harteveldt, who doesn't consider the practice ethical. "There's no easy solution to this."
One airline measure has been to void frequent-flyer miles if an airline determines that a person skipped a connecting flight. In some cases with repeat offenders, Harteveldt and Sorensen said, an airline may shut down the account or try to collect the fare difference on the flight a passenger actually used. American warns travel agents not to sell such tickets, likening the practice to "switching price tags to obtain a lower price on goods sold at department stores."
DiScala, who travels more than 150,000 miles per year and was spending the holidays with his wife in Hawaii, says hidden city tickets have been an occasional financial temptation—but one he's avoided. "I didn't want to lose my miles," he says.
Before it's here, it's on the Bloomberg Terminal.
LEARN MORE