Singapore's Economic Growth Slowed to 2.8% in 2014, Lee Says
Sharon Chen and Michael Heath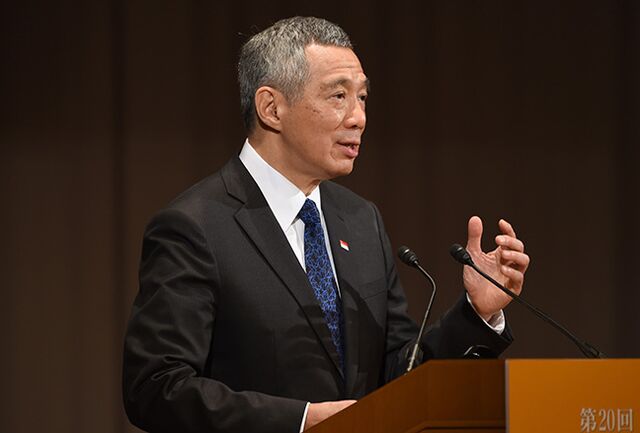 Singapore's economic growth cooled in 2014 and the nation will experience slower expansion than it's used to, Prime Minister Lee Hsien Loong said.
Gross domestic product rose 2.8 percent last year, Lee, 62, said in his New Year message yesterday. That compares with a November forecast of about 3 percent, and an expansion of 3.9 percent in 2013.
"Our economy has performed moderately well in 2014," Lee said. "However, our productivity performance has been disappointing" and the country must intensify efforts to help companies and workers upgrade, he said.
Export-dependent Singapore is experiencing the effects of a faltering global economy, with China set to record its weakest growth in almost a quarter century and the economies of Europe and Japan struggling to gain momentum. Government efforts to curtail the inflow of cheap foreign labor have also pushed up business costs.
"Our growth will be slower than we are used to," Lee said. "One reason for this is that we have been tightening policies, including on foreign workers, to get our economy onto a path of sustainable, productivity-driven growth."
Singapore's trade ministry will release preliminary fourth-quarter GDP figures at 8 a.m. local time tomorrow. The economy expanded an annualized 3 percent from the previous three months, according to a Bloomberg News survey.
GDP Forecast
The government has forecast an expansion of 2 percent to 4 percent in 2015 as China, its largest trading partner, seeks to deleverage its economy without a hard landing. In contrast, the U.S., among the top markets for Singapore's exports, grew at the fastest pace in more than a decade in the third quarter as consumer and business spending surged.
Real median incomes in Singapore have risen 10 percent during the past five years, and the nation isn't facing concerns over unemployment and stagnant wages that are confronting many developed countries, Lee said.
Lee's administration will spend about S$4 billion ($3 billion) in the next five years on subsidies and financial support for a new universal health insurance plan called MediShield Life, to be implemented at the end of 2015, according to the Ministry of Health. It also plans to spend S$9 billion on health care and other benefits for the elderly as part of a Pioneer Generation Package.
'Safety Nets'
While economic growth is slowing, it is important to still create expansion, the prime minister said.
"Growth also gives us the resources to improve social well-being and sustain our social safety nets," Lee said. "Because of these new schemes, social spending is rising steadily. We have been prudent in the past so we can afford the new programs we are launching."
Singapore's population has jumped by more than 1.4 million since 2000 to about 5.5 million with more foreign labor, leading to voter discontent over congestion and competition for housing. The number of elderly, or those 65 years and older, will triple to 900,000 by 2030, according to the National Population and Talent Division.
Related News and Information: Singapore Civil Servants Win or Lose Bonuses on the Economy
Before it's here, it's on the Bloomberg Terminal.
LEARN MORE