Pilot's Final Request Was Met by Two-Minute Radio Delay
Herdaru Purnomo and Kyunghee Park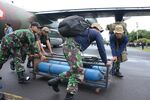 It took about two minutes for air-traffic control to respond to AirAsia Bhd.'s ill-fated Flight 8501 when the pilot requested permission to fly higher, according to Indonesia's air navigation operator.
In the final communication from the plane, one of the pilots asked to climb 38,000 feet, said Wisnu Darjono, director at AirNav Indonesia, citing a transcript of the conversation from the National Transport Safety Committee. Air traffic control authorized the plane to ascend only to 34,000 feet about two minutes later, after which contact was lost, Darjono said.
Accuweather.com data shows there were storms along the path of the plane, which Indonesia's air transport director has said was flying at 32,000 feet (9,800 meters.) There were six planes at different altitudes passing in the area at the time, which contributed to the delayed response, according to AirNav.
Air-traffic control "couldn't immediately give permission to fly at 38,000 feet because checks needed to be made to see if there were other planes nearby," Darjono said in a phone interview. The "pilot didn't reply."
Radar data appeared to show that AirAsia made an unbelievably steep climb before it crashed, possibly pushing it beyond the plane's limits, Reuters reported, citing an unidentified person familiar with the probe's initial findings.
As divers seek to find the plane's black boxes, those final minutes may provide crucial clues as to what caused the Airbus Group NV A320 plane to crash on Dec. 28 with 162 people on board into the ocean near Pangkalan Bun, about 600 miles southeast of Singapore. Rescuers started pulling bodies and debris from the water yesterday.
Pilots' Hands
AirNav can't publish the transcript, as only the National Transport Safety Committee has the authority to do so, Darjono said. He declined to provide further details from the transcript.
Two minutes to answer a pilot's request for permission to elevate is not necessarily unusual, depending on how much traffic a controller is watching, said Bill Parrot, a retired airline pilot and associate professor of aviation at Lewis University in Romeoville, Illinois. In some busy markets, such as Chicago, a controller may be monitoring up to eight frequencies at once, he said.
"There is a point of time when a sense of urgency really is in the hands of a pilot," he said. "If a pilot declares an emergency, they can do pretty much whatever they want to do."
Rough Weather
Rough weather was hampering the search today.
"The weather's terrible: It's monsoonal and there's quite a bit of wave height," said Robert Mann, head of aviation consultant R.W. Mann & Co. in Port Washington, New York. "You just don't have visibility and you don't have a stable platform to work from."
The recovery effort will involve salvaging large pieces of th31e plane, engines, landing gear and other wreckage requiring heavy-duty lifting capability.
"It's not an easy task," Mann said.
Losing the AirAsia plane caps the worst year for air-passenger fatalities since 2010. The AirAsia pilots didn't send a distress signal, drawing comparisons with Malaysia Airlines Flight 370, which went missing in March en route to Beijing from Kuala Lumpur. The hunt continues for that plane, the longest search for a passenger jet in modern aviation history.
Before it's here, it's on the Bloomberg Terminal.
LEARN MORE